You're here because you care about the planet and you want to help make Pancake Day more sustainable. We're here to give you a delicious opportunity to make positive change.
This Pancake Day we're asking people to take a pledge. A pledge to cook entirely plant-based pancakes with OGGS® Aquafaba instead of eggs, giving chickens the day off and significantly reducing the overall carbon footprint of Pancake Day.
Why do we need the pledge?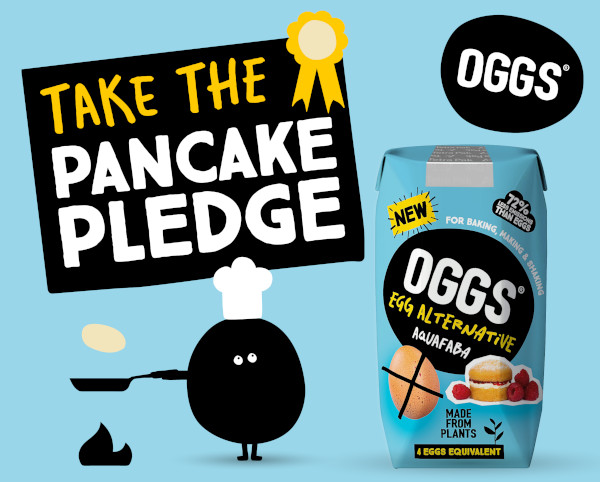 Each year in the UK about 55.6 million chicken eggs are eaten on Pancake Day. Producing all those eggs puts a lot of pressure on chickens and releases a huge amount of carbon into the atmosphere.
We've been working with some very clever people - we'll call them our climate OGGsperts - and they've helped us work out the environmental footprint of the eggs eaten on Pancake Day.
All those eggs creates 14,281 tonnes of carbon (Co2 equivalent**). That's the same as driving 1,124 cars around the entire world (travelling a total of 23,000 miles)***.
We could reduce this by 72% if people switched out their eggs for OGGS®. It's that simple!
OGGS® Aquafaba is a ready-to-use liquid egg alternative that whips and whisks just like eggs, it's 100% plant-based and made using a patented ratio of chickpea protein to water.
Take the OGGS® Pancake Pledge
So, are you ready to take the pledge?
Sign up and we'll pop you a voucher for a FREE 200ml carton of OGGS® Aquafaba. Redeemable at your local ASDA or Waitrose.
If you're after more inspiration, here's a couple of recipes to help make your Pancake Day as delicious as possible:
And finally, we love show-offs! So share your pancakes with us using #OGGSPancakePledge and we'll re-share your creations with our followers.
*There are 27.8m households in the UK according to ONS. Each household is set to eat 6 pancakes according to OGGS research (carried out by Sapio) - which requires 2 eggs per household. 27.8m x 2 = 55.6m eggs. ** The average egg weighs 58g and according to our own scientific studies, 1kg of eggs emits.
*** A car travelling around the world emits 12.7 tonnes of Co2e. 14,281 tonnes / 12.7 = 1124 cars