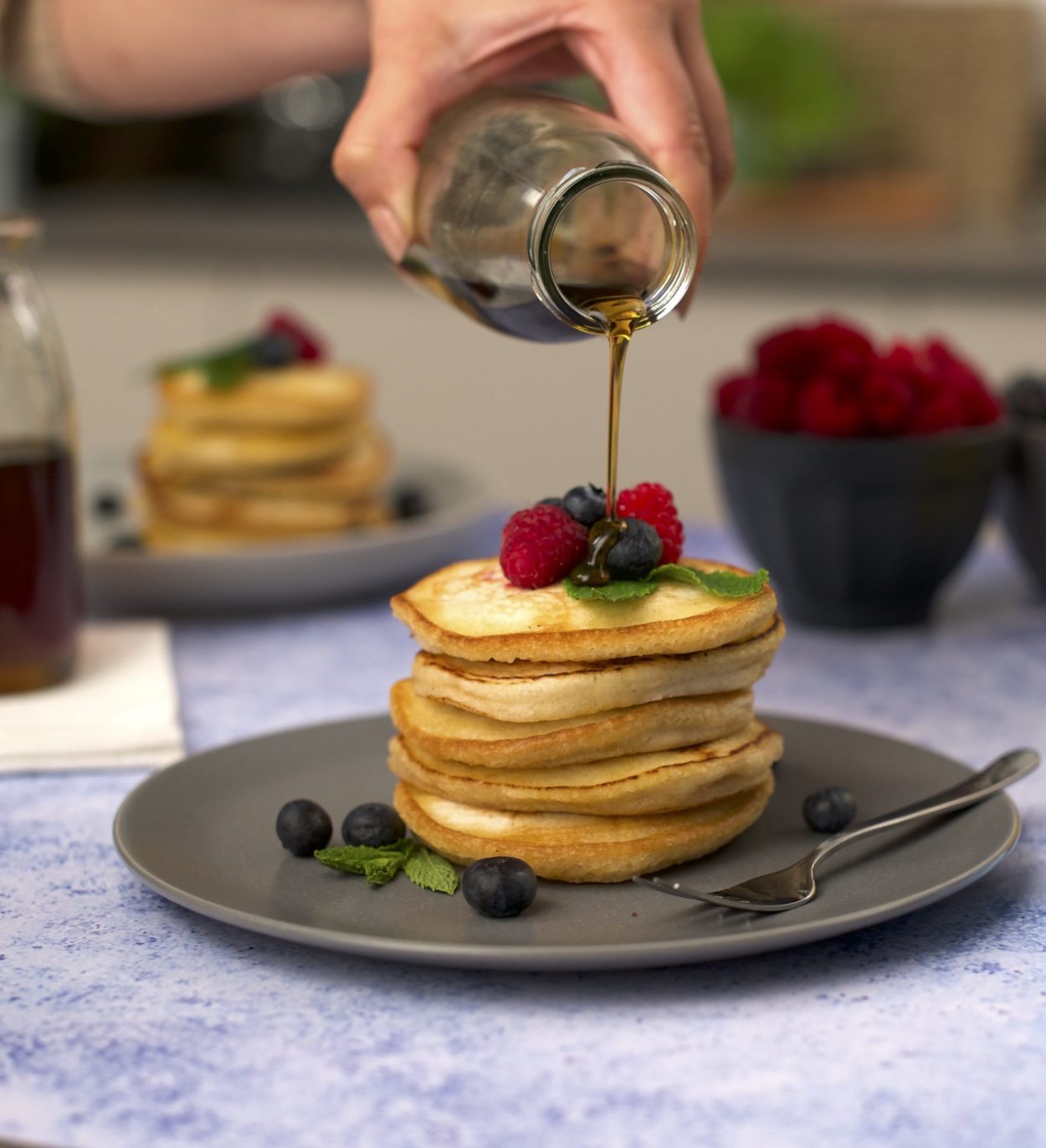 PRINT RECIPE
Click to see how it's made
We're not allowed to have favourite recipes, but our thick and fluffy vegan pancakes might just be at the top of the list.
OGGS® Aquafaba instead of eggs makes these pancakes kinder, more sustainable, and (we think) even more delicious!
PREP TIME 15 Mins
COOK TIME 15 Mins
SERVES 6 pancakes
Ingredients
125ml OGGS® Aquafaba
1 tsp baking powder
65g caster sugar
190g plain flour
3 tbsp vegetable oil
A squeeze of lemon
75ml dairy-free milk (We love almond or oat milk in this recipe, but all types of milk will work.)
Margarine, for frying
Favourite toppings… fresh fruit, maple syrup, melted chocolate…the options go on and on.
Method
Combine all the dry ingredients together in a large bowl.


Next, whisk up your OGGS® Aquafaba in a clean bowl for 30 seconds until it's pale and frothy and then add the oil, lemon juice and milk.


Add the dry mixture to the wet mixture, little by little, until you've made a smooth thick batter.


Rest the pancake batter in the fridge for 30 minutes...sorry!


Heat a non-stick frying pan over a medium heat and add a knob of margarine. Once melted, add a small ladleful of batter into the frying pan and smooth into a rough round with the back of the ladle.


Wait until the base of the mixture sets and the top begins to bubble, then flip it over and cook until both sides are golden brown. Repeat until all the batter is used up.


Serve with lashings of your favourite toppings!
Top Tips
For the fluffiest of pancakes, and if you've got the patience, leave the batter in the fridge for a couple of hours but don't forget to stir it before using it…
The first pancake is always ugly. We recommend simply eating it before anyone sees it.
Keep your pancakes warm while you finish cooking by popping them into the oven preheated to around 70°C.