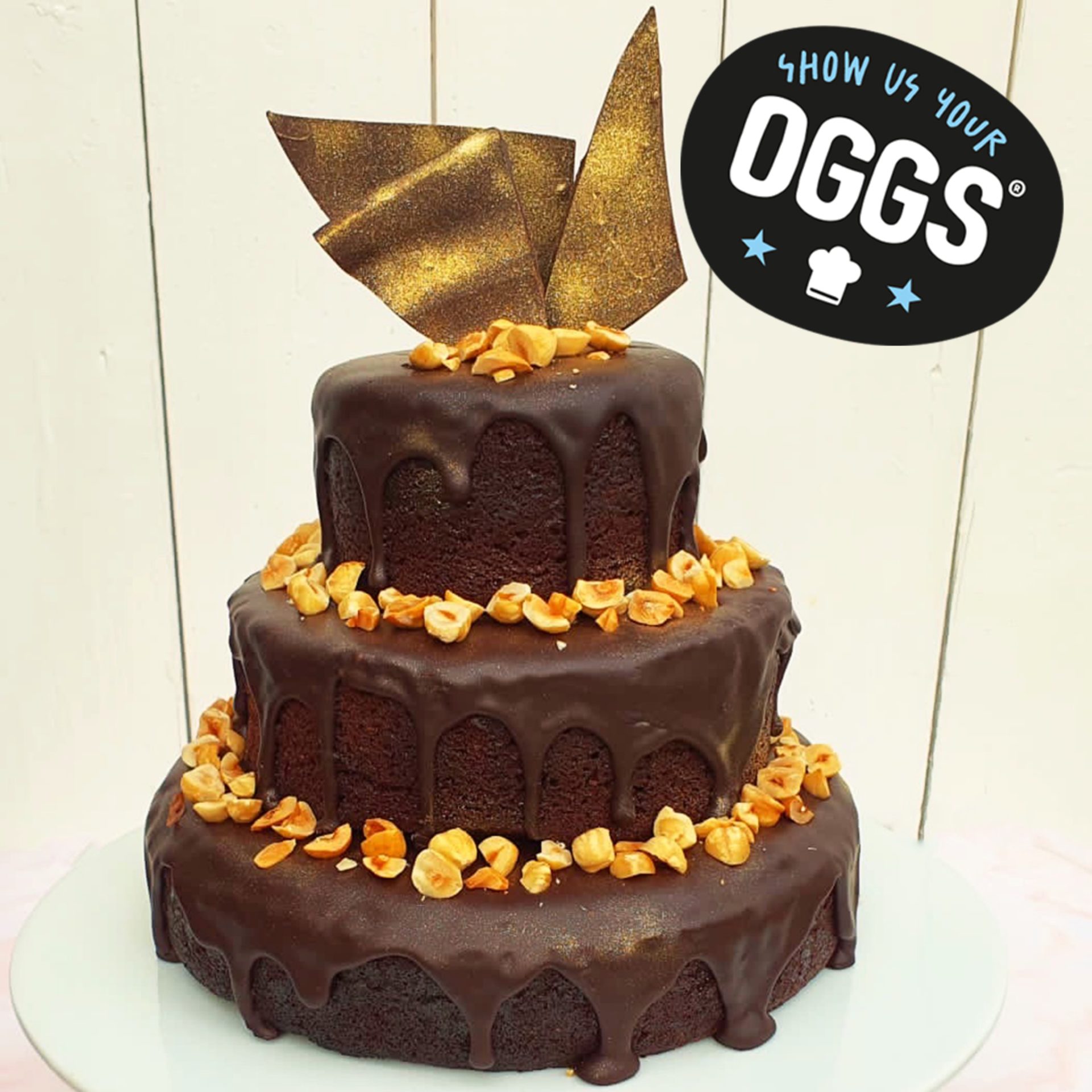 PRINT RECIPE
PREP TIME 45 minutes
COOK TIME 1.5 hour
SERVES 15
Ingredients
Cake
180ml olive oil
450ml dairy free milk
300ml boiling water
500g caster sugar
200g soft brown sugar
450g plain flour
160g cacao powder
200g OGGS Aquafaba

2 tsp vanilla extract

2 tsp baking powder
1 tsp lemon juice
Icing
200g icing sugar-sifted
80g cacao powder
400g dark chocolate
120g boiling water
To Decorate
150g dark chocolate
100g toasted hazelnuts

Gold sparkles
Method
Method:
1. Preheat the oven to 180C/160C fan/gas mark 4.
2. Line 3 different sized baking tins with parchment paper– 8in/6in/4in.
3. Sift the flour, cacao powder and baking powder together.
4. In a separate bowl whisk together the olive oil, dairy free milk and vanilla extract.
5. In a clean bowl start to whisk the OGGS Aquafaba with a splash of lemon juice until nice and fluffy/soft peaks form. Slowly start to add the two sugars until you have a thick glossy mixture.
6. Combine all the ingredients, folding gently, until smooth and glossy.
7. Divide the mixture between the three baking tins and bake in the oven for 80 minutes for the large tin, 60 minutes for the medium tin and 40 minutes for the small tin.
8. Remove from the oven and allow to cool on a rack.
9. Once cooled remove the baking paper carefully and level off the top of each sponge to create a nice flat surface.
Glaze:
1. Sift the cacao powder and icing sugar together and whisk in the boiling water.
2. Melt the chocolate over a bain-marie and whisk into the cacao mixture.
3. Slowly pour onto each cake, allowing it to drizzle down the sides. Pour very slowly.
4. Chill each cake in the fridge for 30 minutes.
5. When ready gently mount the cake. Largest, medium and small cake.
Decoration
1. Roughly chop up the toasted hazelnuts.
2. Melt the dark chocolate over a bain-marie. Prepare a large flat baking sheet with baking paper. Pour the chocolate onto the baking sheet and chill.
3. Crack the sheet into large shards. Sprinkle with gold dust.
4. Press each shard into the top of the cake, be careful here.
5. Scatter the chopped hazelnuts on each cake layer. Sprinkle with more gold dust.