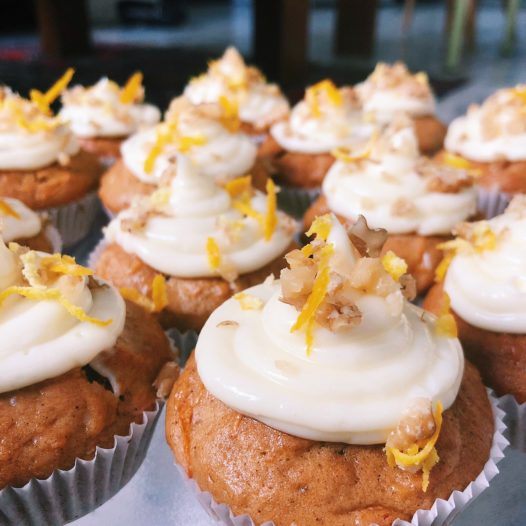 PRINT RECIPE
PREP TIME 30 minutes
COOK TIME 30 minutes
SERVES 20 cupcakes
Ingredients
150ml OGGS® Aquafaba
300g carrot (approx 5)
300g light brown sugar
250ml sunflower oil
350g plain flour
1 tsp baking powder
1 tsp cinnamon
1 tsp ginger
Pinch of nutmeg
1 tsp apple cider vinegar
handful of crushed walnuts
Cream Cheese Icing
175g vegan cream cheese
100g icing sugar
1/2 tsp vanilla essence
Method
Preheat the oven to 160°C Fan (180°C / Gas 4) and line your muffin tin with cases.
Grate your carrots, and leave aside
Whisk your OGGS® Aquafaba on a high speed until it has reached hard peaks and doesn't shift in the bowl. At this point, add the sugar and continue mixing 'til you've created a thick glossy mixture.
Fold in the oil, flour and baking powder.
Next, whack in the spices, vinegar and nuts and keep mixing so they're well distributed.
Finally add the grated carrot. Now, texture should be thick and coarse…and smell absolutely heavenly!
Distribute the mixture evenly into the muffin cases, making sure you give them a little bit of space to grow in the oven.
Pop into the oven for 30 minutes…they have quite a lot of liquid in, because of the carrots so they naturally take slightly longer to cook. Once they have risen and are springy to touch, take them out and leave to cool in the tin before icing.
Whilst you're waiting for them to cool down (the worst part of any cake making!) why not whip up some cream cheese icing to go on top? Whisk together the ingredients until you're happy with the consistency. We love to transfer ours into a recycling piping bag and pipe them on to give them a fancier finish.
Top Tips
You'll be able to tell if your muffins are fully cooked, if they spring back when you gently press their tops. However, if you're not fully confident with this method, simply use the knife/tooth-pick trick. If they come out clean after being placed in the center of the muffin, they're good to go!
Once your cake/cakes are fully iced, why not grate some orange peel on top and crush some walnuts over it too?