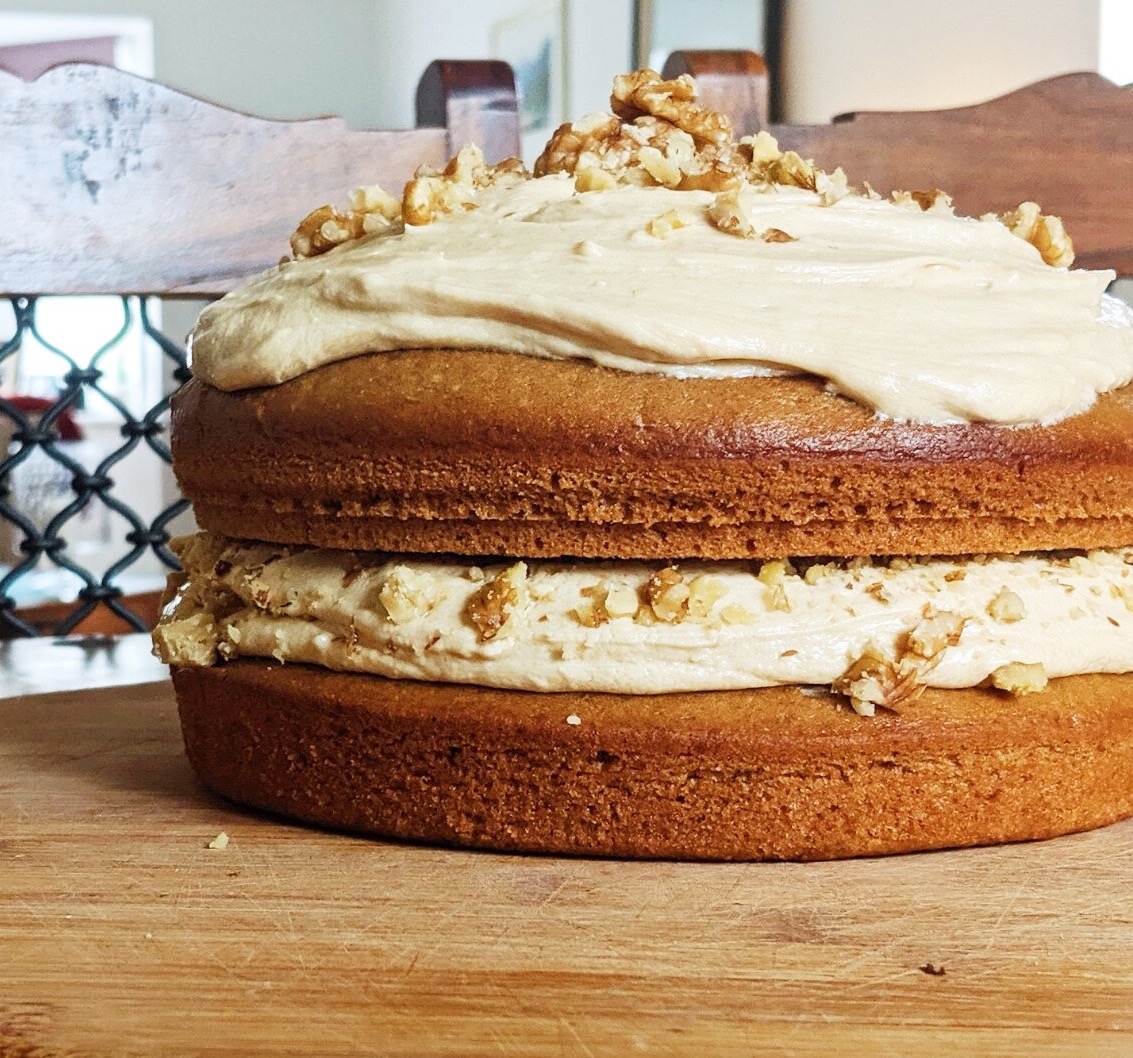 PRINT RECIPE
Coffee cake really is a bit of a treat. Especially one with rich buttery icing and walnuts to crunch on. We can't promise that it will last long, but we promise it'll be a hit either with a cup of tea or as a dessert option.
Ingredients
Cake:
100ml OGGS Aquafaba
150g caster sugar
100g soft brown sugar
300ml dairy free milk
160ml vegetable oil
2tsp vanilla essence
400g self-raising flour
2 tsp baking powder
2 tbs instant coffee with 2tbs boiling water (mixed)
Icing:
150g Flora's vegan butter
250 icing sugar
1tbs instant coffee with 1tbs boiling water (mixed)
handful walnuts, crushed
Method
Preheat the oven to 180'c and line your 7-inch cake tins with either parchment paper.
Using an electric whisk. whisk up the aquafaba until you've created stiff peaks and slowly add the  sugar 'til you've made a thick glossy mixture.
Add the remaining wet ingredients and continue mixing on a slow speed.
Using a spatula, gently fold the flour and baking powder until it's well combined, and the mixture is pale and thick.
In a mug, combine two tablespoons of instant coffee with two tablespoons of boiling water and stir well. Once the instant coffee is all dissolved, pop the dark and rich liquid into the mixture and fold in well. It should change to an intense light brown colour.
Divide between the two cake tins and cook for 30 minutes until they have risen and turned golden.
Whilst your cakes are in the oven, whisk together your icing ingredients. Start off by whisking your vegan butter until it has loosened and then fold in half the icing sugar. Add the coffee liquid and stir well before transferring to the fridge. We think icing thickens up perfectly if left in the fridge for 20 minutes, so be patient! Once it's taken out, add the rest of the icing sugar and whisk until its thick and fluffy.
The worst part of making cakes is always waiting for the cake to cool before decorating it- we know! It's important though, otherwise your beautiful icing will simply melt and slide off! Once it's cool (really cool) sandwich the cakes together using half of the icing. Pop the other half on top and decorate generously with walnuts!
Top Tips
You'll be able to tell if your cakes are fully cooked, if they spring back when you gently press their tops. However, if you're not fully confident with this method, simply use the knife trick. If they come out clean after being placed in the center of the cake – all done!
Be sure not to put too much icing in the middle because the weight of the top tier cake will press down, and sometimes, icing can spill out!