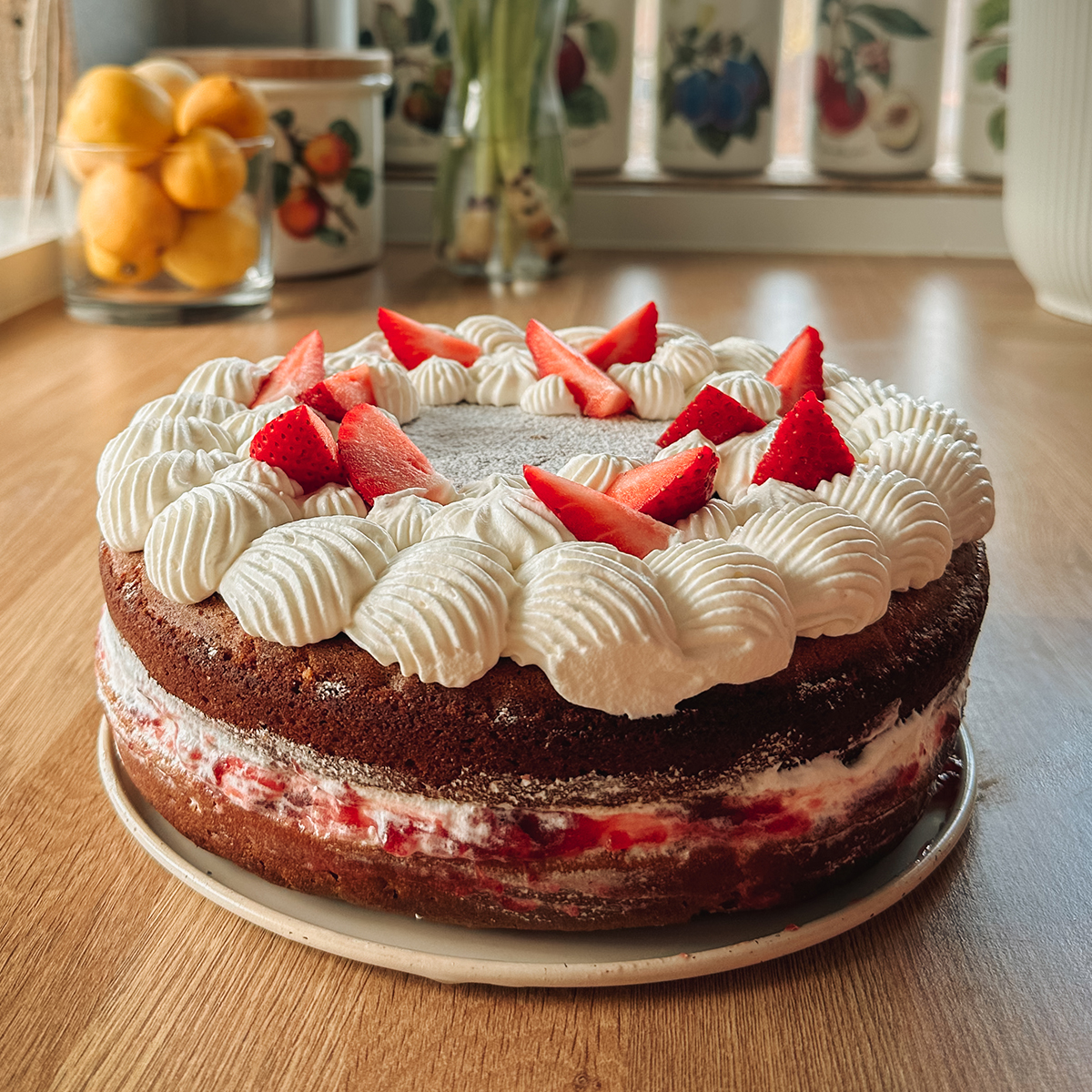 PRINT RECIPE
There's a reason this is the most popular recipe on our website! What could be more iconic than a classic Victoria Sponge? We'll tell you what – a Victoria Sponge made totally vegan using OGGS® Aquafaba instead of eggs!
This is a super simple recipe that's sure to impress – and the best bit? No one will know it's plant-based! If you've given this one a go, make sure to tag us in a picture on Instagram so we can drool appropriately.
PREP TIME 15 mins
COOK TIME 45-55 mins
SERVES 12
Ingredients
For the Sponge
220ml OGGS® Aquafaba
280ml vegetable oil
220ml soy milk
250g caster sugar
570g self raising flour
1 tsp baking powder
1 tbsp vanilla extract
1 tsp salt
For the Frosting
150g dairy free butter
300g icing sugar, plus extra for dusting
1 tbsp vanilla extract
To Decorate
4 tbsp strawberry jam
Fresh strawberries and icing sugar to decorate
Method
Preheat the oven to 160°C Fan (180°C / Gas 4). Line a 23cm round baking tin with parchment paper.


In a mixing bowl combine the OGGS® Aquafaba with the oil, sugar and salt.


Add the soy milk and vanilla, then combine.


Mix in the flour and the baking powder.


Pour into the tin and cook for 45-55 mins or until a skewer comes out clean.


To make the frosting, beat the dairy-free butter for 1 min until pale and smooth. Sift in the icing sugar, add the vanilla extract and beat for 5 mins until pale and fluffy.


Slice your cooled cake into two and spread the frosting decorate! We love adding strawberries to our Victoria Sponge!

Top Tips
Freeze your un-iced sponges for up to 2 months. Defrost at room temperature before icing ready to serve.
If you're planning on eating this cake over a few days then serve the strawberries on the side.
Store in an airtight container in the fridge for up to 5 days.
This recipe can be used to make 24 fairy cakes, bake for 20mins in cup cake cases.