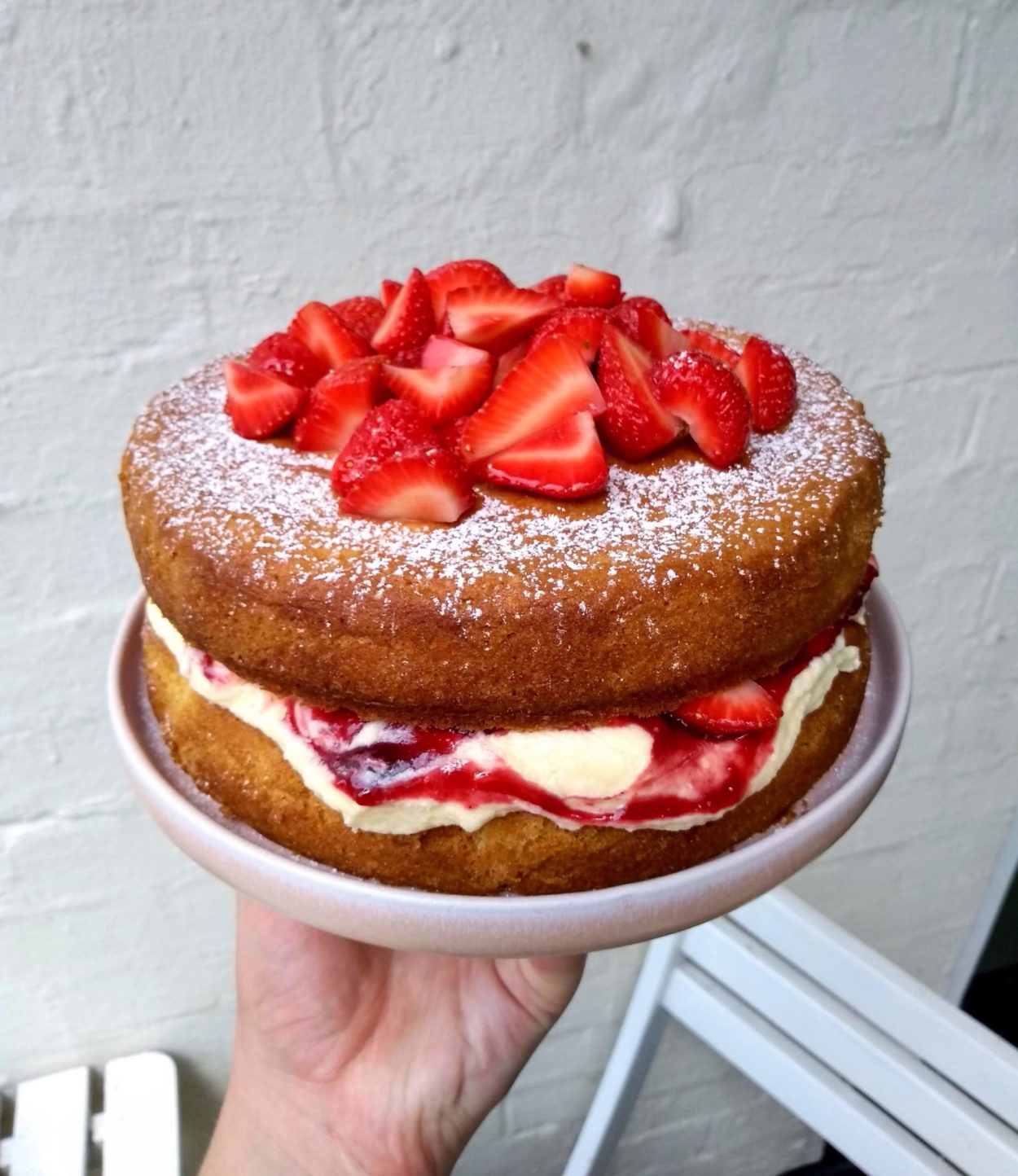 PRINT RECIPE
There's a reason this is the most popular recipe on our website! What could be more iconic than a classic Victoria Sponge? We'll tell you what – a Victoria Sponge made totally vegan using OGGS® Aquafaba instead of eggs!
This is a super simple recipe that's sure to impress – and the best bit? No one will know it's plant-based! If you've given this one a go, make sure to tag us in a picture on Instagram so we can drool appropriately.
PREP TIME 20 minutes, plus cooling
COOK TIME 40 minutes
SERVES 12
Ingredients
For the Sponge
125ml OGGS® Aquafaba
230g barista oat milk
6g / 1 tsp apple cider vinegar
6g / 1 tsp vanilla extract
90g dairy free butter - we love Naturli Vegan Block
80g coconut oil, melted
250g caster sugar
240g self raising flour
60g plain flour
6g / 1 tsp baking powder
3g / 1/2 tsp fine salt
For the Frosting
150g dairy free butter
300g icing sugar, plus extra for dusting
1 tbsp vanilla extract
To Decorate
4 tbsp strawberry jam
Fresh strawberries and icing sugar to decorate
Method
Preheat the oven to 170°C Fan (190°C / Gas 5). Grease and line two 18cm (7in) springform cake tins with dairy-free butter and greaseproof paper.


In a small bowl mix together the milk with the apple cider vinegar and set aside for 5 minutes. Meanwhile weigh out the rest of the ingredients into separate bowls.


In a medium sized, scrupulously clean bowl, use an electric whisk to beat the OGGS® Aquafaba for 2 mins until it is white, fluffy and firmly holding its shape. Set aside.


In a separate large bowl, beat the dairy-free butter, the caster sugar and the vanilla extract together until pale and fluffy, then gradually add the coconut oil and beat until incorporated.


Add the whisked OGGS® Aquafaba and mix together.


Add half of the flour, the baking powder and the salt, and mix for 5 seconds. Then add half of the milk and vinegar mix and whisk together. Repeat the previous step to add the remaining flour and milk mix. Beat until evenly combined and have a smooth, light batter. Divide the mix between the prepared cake tins, smooth the tops with the back of a spoon and bake on the middle shelf of the oven for 25/30 mins. until golden, risen and a skewer comes out cleanly when inserted in the middle. Cool in the tins for 15 mins then remove to a wire rack and set aside to cool fully.


To make the frosting, beat the dairy-free butter for 1 min until pale and smooth. Sift in the icing sugar, add the vanilla extract and beat for 5 mins until pale and fluffy.


Spread the frosting over one of the cooled cakes, top with the jam and a handful of strawberries then sandwich with the second cake. Pile the remaining strawberries on top and dust with a little icing sugar to serve.


Top Tips
Freeze your un-iced sponges for up to 2 months. Defrost at room temperature before icing ready to serve.
If you're planning on eating this cake over a few days then serve the strawberries on the side.
Store in an airtight container in the fridge for up to 5 days.
This recipe can be used to make 24 fairy cakes, bake for 20mins in cup cake cases.