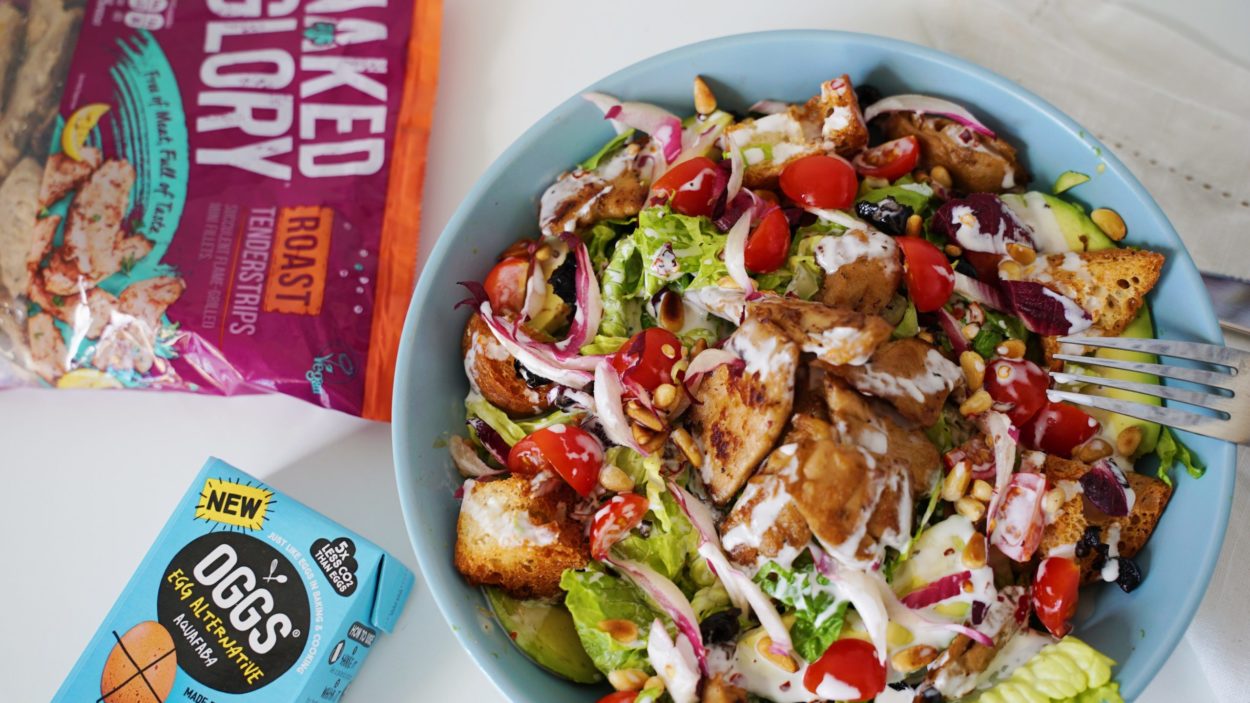 PRINT RECIPE
PREP TIME 20 mins
COOK TIME 15 minutes
SERVES 2
Ingredients
Cesar Dressing
50ml OGGS Aquafaba
1 tbsp white wine vinegar
1 tbsp lemon juice
1 tsp caster sugar
½ tsp dried chilli flakes
1 garlic clove, crushed
2-3 sprigs parsley, chopped
Salt and pepper to taste
100ml sunflower oil
1tsp nutritional yeast
Croutons
100g stale bread, roughly chopped
2 tbs olive oil
Salt and pepper
Salad
10g pine nuts, lightly toasted in a dry pan
1 bag Naked Glory chicken strips
2 baby gem lettuce, shredded/ roughly chopped
50g baby plum tomatoes, halved
25g kalamata olives, halved
2 chicories, finely chopped
One whole avocado, thinly sliced
Method
If you're making croutons from scratch with left-over bread, preheat the oven to 180 degrees/ gas mark 4. In a large baking tray, lightly drizzle your olive oil over your bread and move the pieces around the tray so they're evenly coated. Once your oven is hot, pop them in there to brown off for 10 minutes.
Next- the salad sauce! If you have a Mason jar that is big enough to fit an emulsifier in, we suggest whizzing it up in that. If not, any small but tall container should do the job.
Start by pouring the OGGS Aquafaba into the jar, and pop the emulsifier in. Blend for 30 seconds, pulsing the blade up and down 'til it's lovely and frothy. Add the rest of the ingredients, other than the oil, and continue to blend for another minute. The mixture should be pale, frothy and peppered with the herbs by this point.
Over the next few minutes, you'll need to continue blending, whilst pouring in oil ever so slowly. We suggest pouring at the width of a piece of spaghetti until it's all used up. By this point, it should be lovely and creamy, without being too thick.
Make sure it's seasoned to your taste.
Now your dressing is complete, pop it in the fridge and focus on your salad! Combine all the salad items together and toss to make sure all the goodies are well combined! Remember to check on your croutons at this point and take them out, if they're looking crisp!
Heat a dry frying pan and, toss the pine nuts in. Keep stirring them for 2 minutes. Once they're browning, take them off the heat and leave aside for later. In the same frying pan, add a teaspoon of olive oil. Once hot, add your Naked Glory chicken strips in. Keep stirring them 'til the pieces are lovely and crisp. After roughly 4-5 minutes, the pieces should be perfect. Take them off the heat and toss them into your salad.
Time to add the croutons, chicken tender-strips and pine nuts...arguably all the best bits! Drizzle over your Cesar dressing and serve immediately!