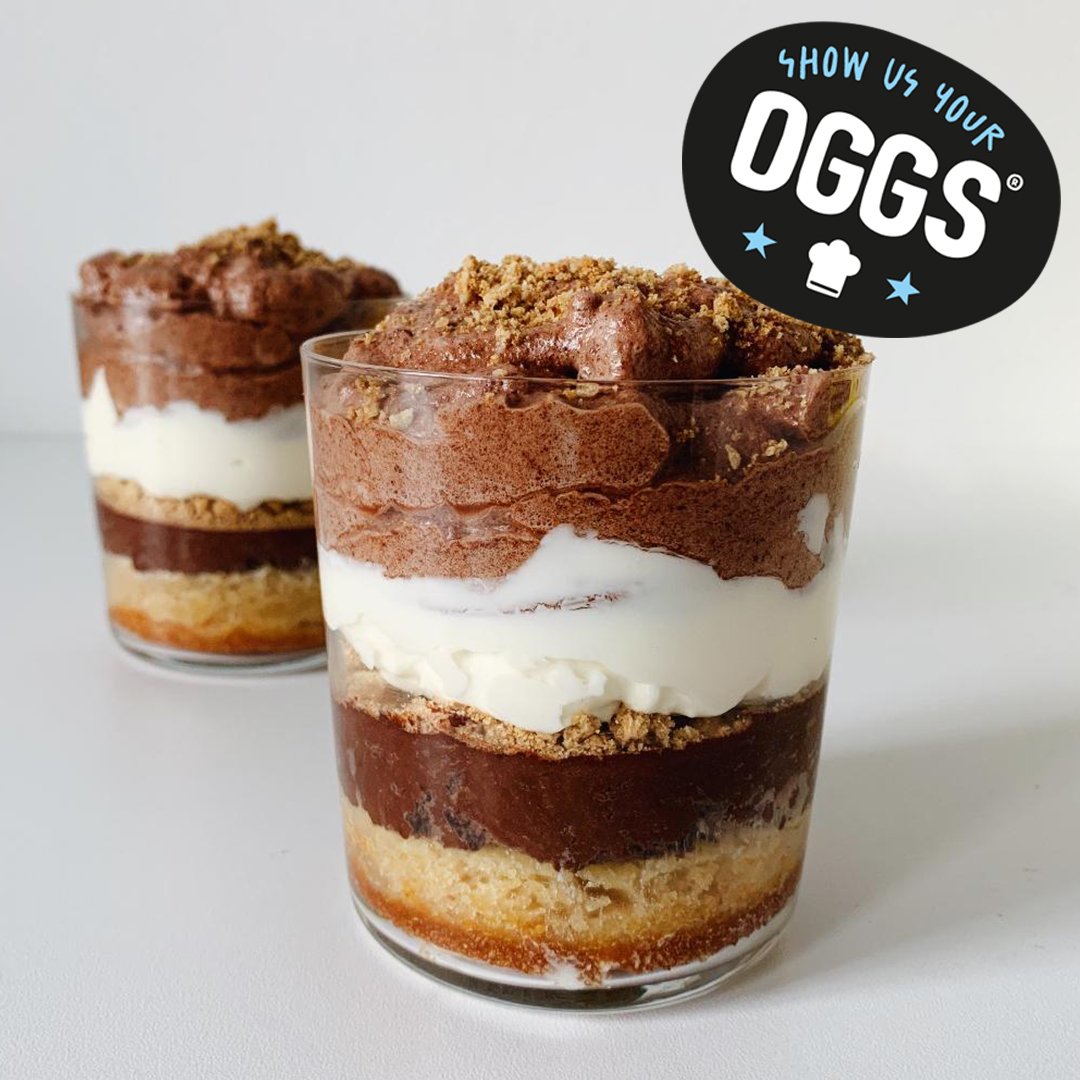 PRINT RECIPE
OGGS Aquafaba from head to toe, this simple recipe is an absolute show stopper!
PREP TIME 1 hour
COOK TIME 25-30 minutes
SERVES 4
Ingredients
Sponge
65g Flora margarine
65g caster sugar

1 tsp almond extract
50ml OGGS® Aquafaba
20ml non-dairy milk

65g self-raising flour
½ tsp baking powder
Ganache
50ml coconut milk
80g Flora margarine
110g dark chocolate
Mousse
60g dark chocolate
200ml OGGS® Aquafaba

1 tsp lemon juice
20g caster sugar
Extras
95g Biscoff biscuits
200g Oatly crème fraiche
1 tsp vanilla paste
2 tbsp instant coffee

40ml boiling water
4 tsp Marsala
Method
Preheat the oven to 180°c/ 160°c if using a fan oven/ gas mark 4. Grease and line an 8-inch round baking tin.
For the sponge, whisk the Flora, caster sugar and almond extract together until light and fluffy.
Combine the OGGS® Aquafaba with the non-dairy milk and whisk into the margarine mix.
Sift in the self-raising flour and baking powder.
Spread into the baking tin and bake for 25 minutes, until light and golden. Allow to cool.
Meanwhile for the ganache, measure all the ingredients into a bowl and heat gently over a bain-marie. Whisk gently until combined and you have a beautiful glossy ganache mixture. Keep warm to one side.
In a bowl, gently bash the Biscoff biscuits with the end of a rolling pin. Or place in a freezer bag and bash into small crumbs. Keep to one side.
Mix the Oatly crème fraiche with the vanilla paste and keep to one side.
Mix the instant coffee with the boiling water.
Start to layer your individual glasses: using a cookie cutter the same size as the glass, cut out a round of sponge. Place in the bottom of the glass, add 1 tbsp of Biscoff crumbs, then 1 tbsp coffee mix, 1 tbsp Marsala. Now add the ganache mix and allow to chill for 10 minutes in the fridge. Add 1 tbsp Biscoff crumbs and the crème fraiche mix.
For the mousse, melt the chocolate over a bain-marie.
In a clean dry bowl gently whisk the OGGS® Aquafaba with an electric whisk for 3-4 minutes. Add the lemon juice and the caster sugar. Whisk until you have stiff peaks.
Stir in the melted chocolate until well combined. It might deflate slightly, but don't panic! Carefully pour this mixture over the crème fraiche in your glasses. Allow to set in the fridge for 30 minutes
Top Tips
1. Sprinkle with cacao powder or any left-over crushed biscuits!