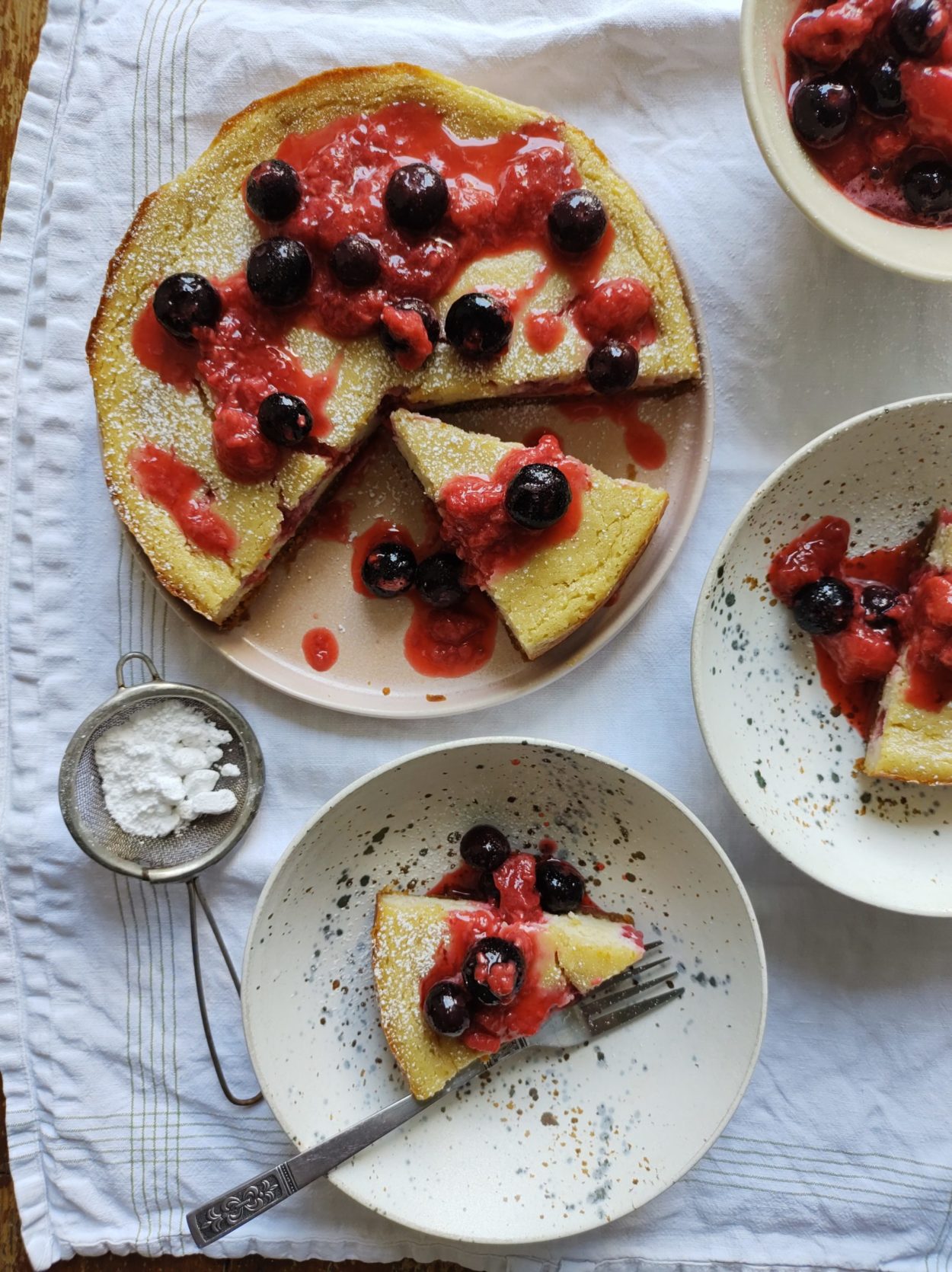 PRINT RECIPE
PREP TIME 25 minutes
COOK TIME 45 minutes
SERVES 8-10
Ingredients
Base
250g gingernut biscuiuts
100g vegan butter, melted
Filling
150g cashew nuts (soaked overnight or a minimum of 4 hours)
300g silken tofu
100g caster sugar
1/2 lemon, juiced
3 tbsp vanilla bean paste
pinch of sea salt
50ml OGGS Aquafaba
150g raspberries
Icing sugar, to dust
For coulis
150g raspberries
150g strawberries
25g caster sugar
100g blueberries
Method
Preheat the oven to 170°C, fan 150°C, gas 3. Grease and line the base and sides of a 20cm spring-form cake tin with baking parchment.
For the base, blend the biscuits to a fine powder, add the melted butter, pulse to combine then tip into the cake tin and compact down with the back of a spoon. Set aside.
Place all the ingredients for the filling, except the Oggs aquafaba and raspberries. in a high-powered food processor and blend until silky smooth. Tip into a bowl.
In a separate bowl, whisk the Oggs aquafaba until pale and fluffy. Gently fold the aquafaba though the cheesecake mix until evenly combined then mix in the raspberries. Pour over the biscuit base, tap the tin on the worksurface a few times to smooth the top then place on a baking tray and bake for 40-45 mins or until the cheesecake has set. Turn off the oven and leave to cool fully to prevent cracking. Chill in the fridge for a minimum of 2 hrs to allow the flavours to mature and the cheesecake to set up.
For the coulis, toss the raspberries and strawberries in a small pan with the sugar. Cover with a lid and place over a medium heat for 5 mins, swirling the pan occasionally until they have a saucy consistency. Remove from the heat and fold through the blueberries. Cool fully.
Drizzle the coulis over the cheesecake and dust with icing sugar to serve.
Top Tips
• The cheesecake will keep for up to 3 days in the fridge. The longer you leave it, the denser it will become. Top with the coulis just before serving.
• Swap the gingernut biscuits for the equivalent weight of Lotus Biscoff original biscuits for a delicious twist