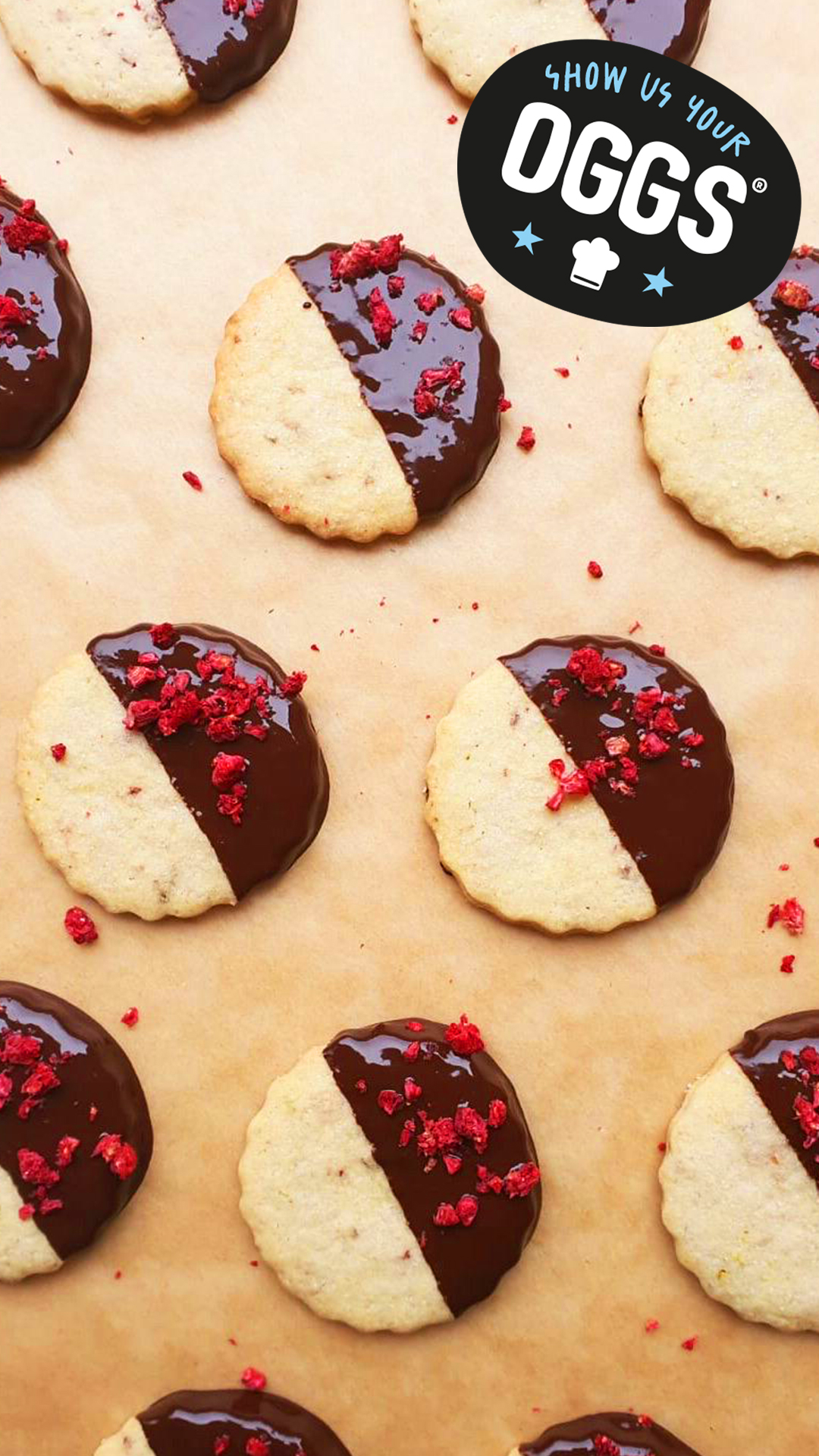 PRINT RECIPE
These perfect light, little biscuit beauties are a superb accompaniment for a cup of tea or coffee.
PREP TIME 1 hour
COOK TIME 18-20 minutes
SERVES 18 biscuits
Ingredients
25g OGGS® Aquafaba
165g plain flour
¼ tsp salt
65g icing sugar
30g caster sugar + a little extra for sprinkles
75g margarine or plant-based butter
½ tsp vanilla extract
8g dried raspberries – finely chopped (optional)
Zest of ½ lime
To Decorate
150g dark chocolate – melted
Dried raspberries
Method
Preheat the oven to 160°C Fan (180°C / Gas 4) and line two baking trays with parchment.


Mix the flour, salt, icing sugar and caster sugar together. Then chop the butter into small cubes and rub together with the flour, either by hand or on in a food processor. Line two trays with parchment paper.


Now mix in the OGGS® Aquafaba, vanilla extract dried raspberries and lime zest, and knead into a dough.


Pop in the fridge for 30 minutes.


Roll out the dough on a floured surface or between two sheets of parchment paper to ½cm thick. Then stamp out the biscuits with a 5-7cm cookie cutter or any shape you like!


Place the biscuits onto your oven trays, spaced 2cm apart. Sprinkle each biscuit with a little caster or granulated sugar.


Bake for 18-20 minutes, until they are just starting to brown on the edges. You want to keep them a nice light colour. Remove from the oven and allow to cool on a metal rack.


Meanwhile you can start melting the dark chocolate over a saucepan of boiling water.


When the biscuits have cooled, dip half of each one into the dark chocolate. Gently shake any excess off and place on a piece of parchment paper.


Sprinkle chopped dried raspberries onto the chocolate side and allow to cool.
Top Tips
If you can resist them, these will store in an airtight tin for up to a week.
Why not swap the lime for lemon or even orange zest for a different flavour combination.