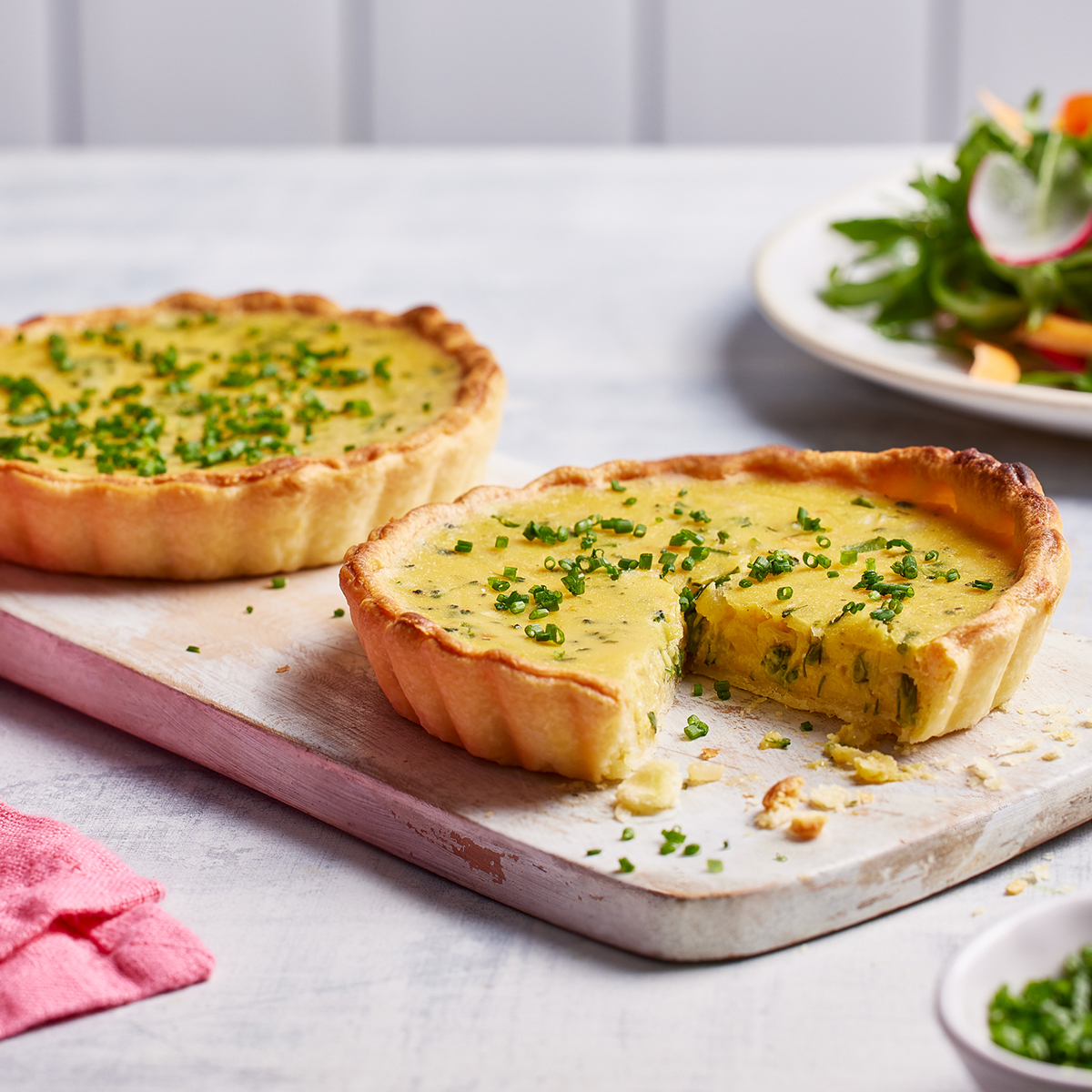 PRINT RECIPE
We love these Tartlets made with OGGS® Whole Egg Alternative – perfect for a fancy lunch with friends or a picnic!
PREP TIME 75 Mins
SERVES 6
Ingredients
240ml OGGS® Whole Egg Alternative
2 sheets or 1 block Plant-based shortcrust pastry
1 tbsp olive oil
50g onion, diced
3 garlic cloves, peeled, finely chopped
70g broccolini, finely chopped
360ml vegetable stock
100g chickpea flour
2 tbsp nutritional yeast
80g plant-based smoked cheddar (we love Violife!)
½ teaspoon salt
¼ teaspoon freshly ground black pepper
Method
Remove the shortcrust pastry from the fridge and allow it to warm up to room temperature, approximately 45 minutes.
Preheat the oven to 200°C (180°C fan oven) Gas Mark 6. Place a baking sheet in the oven to heat up.
If using a block of pastry; roll the pastry out thinly on a lightly floured surface.
Use the pastry to line six 12.5 cm wide flan tins. Prick the base of the pastry with a fork. Place in the fridge for 30 minutes to chill.
Line the pastry case with a sheet of crumpled baking paper and fill with ceramic baking beans.
Place on the hot baking sheet and bake for 15 minutes. Remove the lining paper and beans and bake for a further 5-10 minutes or until the pastry is lightly golden. Reduce the oven temperature to 190°C (170°C fan oven) Gas Mark 5. Set aside.
In a medium size frying pan, heat the olive oil over a medium heat. Add the garlic and onion to the frying pan. Gently cook until translucent, stirring frequently 4 - 6 minutes. Add the broccolini. Cook for a further three minutes. Remove from heat. Set aside.
In a medium bowl add the rest of the ingredients including the OGGS® Whole Egg Alternative. Whisk the ingredients together until no lumps remain.
Gently pour the mixture into the tartlet cases. Place in the oven and bake at 190°C for around 15 - 20 minutes or until golden and firm.
Remove from the oven, cool slightly and serve.