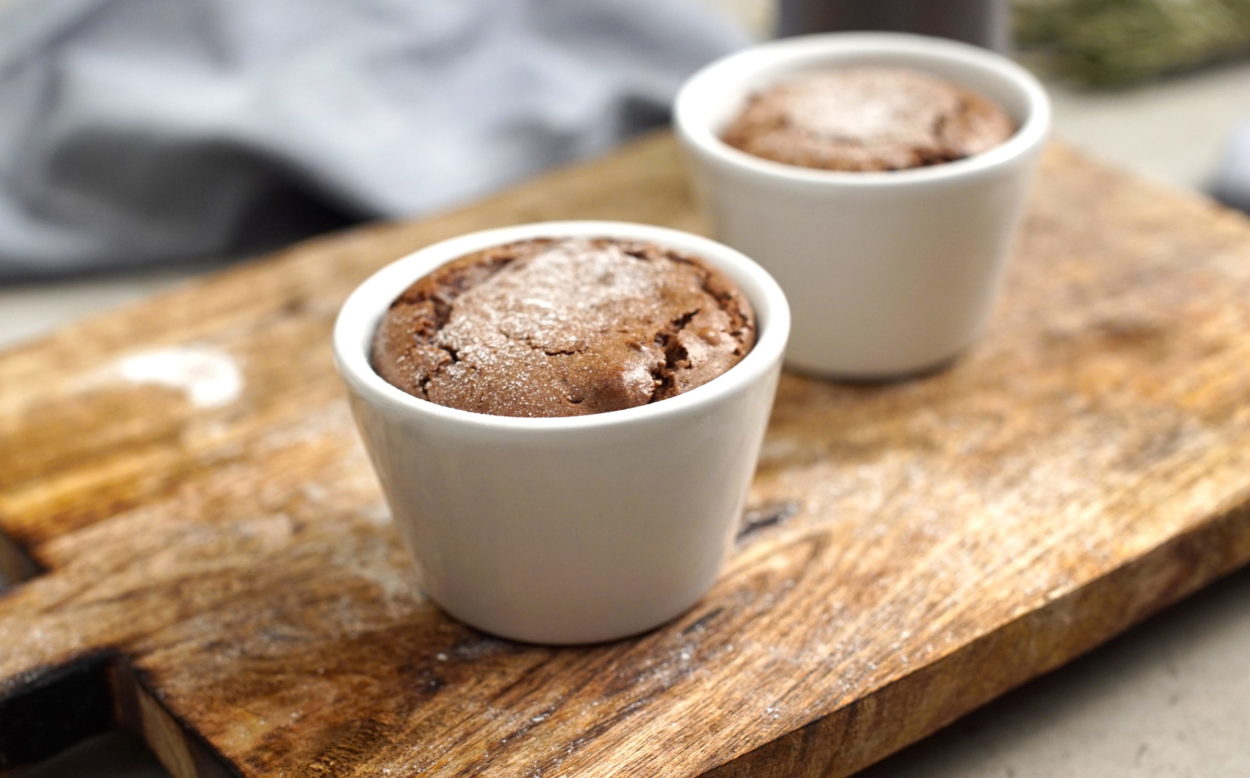 PRINT RECIPE
We know these individual indulgent chocolate pots with a rich molten middle will become a firm favourite with you, your family and friends. One spoonful is never enough…
PREP TIME 20 minutes
COOK TIME 15-20 minuntes
SERVES 4 pots
Ingredients
75g vegan spread e.g Naturli, Stork, Flora, plus extra for greasing
125g self-raising flour
75g caster sugar plus 25g to make a meringue mixture with the OGGS Aquafaba
50g vegan dairy-free chocolate, 70-85% cocoa solids, very finely chopped
25g cocoa powder
100ml OGGS Aquafaba
Icing sugar to dust, optional
Method
Grease 4 x 150-200ml ramekins. Preheat your oven to 150°C/130°C if you're using a fan oven/gas mark 2.
Firstly, heat a large frying pan over a medium flame. Tip in the flour and stir continuously for 3-5 minutes until it is very lightly golden. This helps to cook it and give a slightly toasty flavour. Be careful not to let it burn! Set aside to cool.
Put the vegan spread and 75g of the sugar into a large bowl and use a wooden spoon to cream the two ingredients together until the mixture is soft, light and creamy.
Add the toasted flour, chopped chocolate, and cocoa powder and continue to work all the ingredients together until the mixture turns from looking white and floury to chocolatey, crumbly and a bit like rubble!
Meanwhile, in a large super-clean, grease-free bowl, whisk the OGGS Aquafaba with an electric hand mixer for a couple of minutes until the liquid has become very frothy and a trail is left when the whisks are lifted from the bowl. Gradually add the remaining sugar then whisk for 3-4 more minutes until the sugar has dissolved into the Aquafaba to make a meringue. It'll be slightly stiffer at this stage and look glossy.
Stir a spoonful of the Aquafaba meringue mix into the chocolate mixture to loosen it, then gently fold in the remaining meringue to make a soft batter with no streaks of white. Try not to lose too much of the air!
Divide the mixture evenly between the ramekins – there's no need to spread it out as it expands and rises in the oven.
Bake on the middle shelf of the oven for 17 minutes until risen and just set.
Remove from the oven and serve, dusted with icing sugar, with the hot chocolate sauce, below, or a scoop of your favourite vegan yogurt or ice cream.
Top Tips
These rich chocolate pots are brilliant with other flavours, too. To try our mocha, orange or cherry, just beat the following flavourings together with the vegan spread first before continuing with the recipe:
Mocha – dissolve 1 tsp instant coffee in a bowl with 1 tsp water.
Orange – stir in the grated zest of 1 orange. Serve the puddings with fresh orange segments.
Cherry – add a spoonful of stoned fresh or tinned cherries into the bottom of each ramekin before adding the mixture.