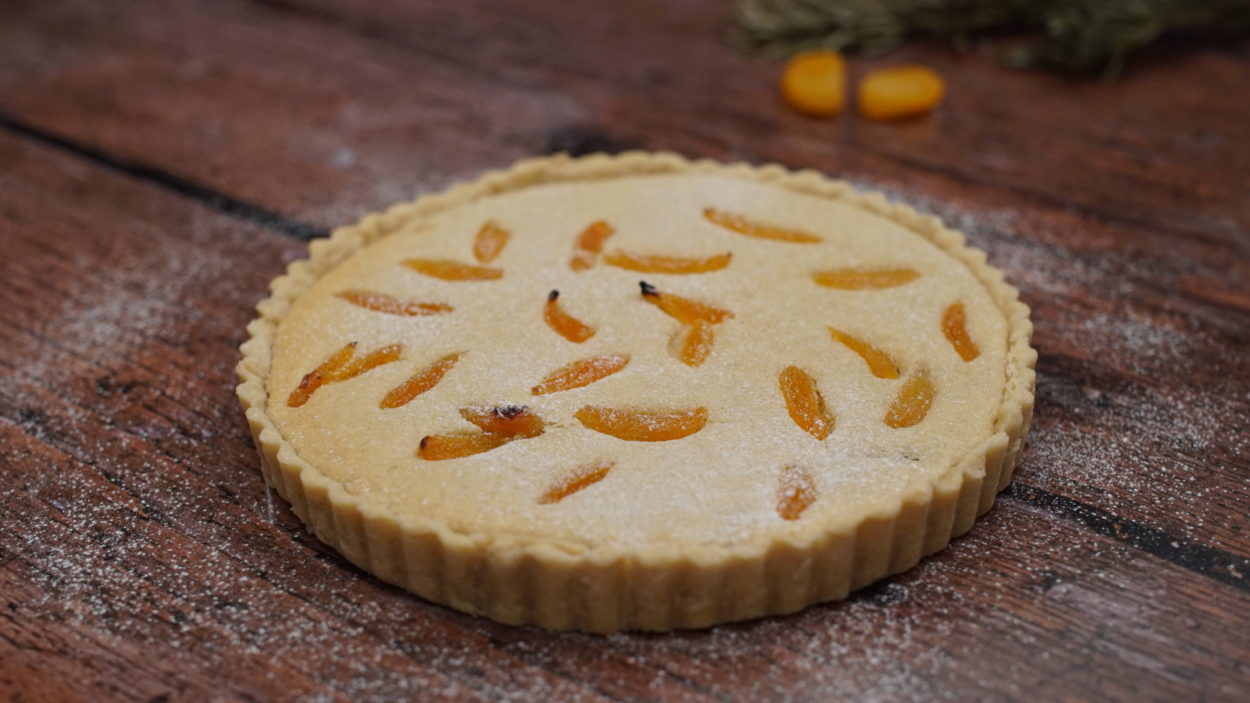 PRINT RECIPE
One big mincemeat pie which slices perfectly for cut-and-come-again scenarios. For those who think they can't make pastry, give our quick-mix version a go. The orange-scented pastry case holds a fruity mincemeat filling finished with a soft almond and apricot bakewell topping, and will have guests coming back for more.
PREP TIME 30 minutes
COOK TIME 50-60 minutes
SERVES 6
Ingredients
For the Pastry
100g vegetable fat spread
2 tsp icing sugar
1/4 tsp sea salt
Finely grated zest of 1 medium orange
1 tbsp OGGS Aquafaba
175g plain flour
For the Filling
50g vegetable fat spread
50g golden caster sugar

50g ground almonds
50g polenta, for colour and crunch
1 tsp baking powder
1/2 tsp almond extract
100ml OGGS Aquafaba
8 dried apricots

5 tbsp vegan mincemeat

Icing sugar, for dusting – and an optional sprig of holly
Method
Preheat the oven to 200°C/180°C if you're using a fan oven/gas mark 6.
Start off by making a quick-mix pastry. Put the vegetable spread (just make sure it is soft enough to blend), icing sugar, salt, orange zest, 1 tbsp of OGGS Aquafaba and a third of the flour into a mixing bowl. Take a fork and start to mix this all together. Now mix in the rest of the flour, pressing with the fork to bring it all together. When you have a firm dough, gather it into a ball, put it on a lightly floured work surface and knead well until silky smooth. Usual pastry rules don't apply with this method, as the kneading improves rather than toughens the pastry. Easy-peasy pastry – right?
Get ready to roll. Shape the dough into a flat disc, then roll it out on your lightly floured surface, so it is about the thickness of a £1 coin. Fit it into a 20cm round, fluted tart tin, 2.5cm deep. Try not to stretch the pastry as you ease into the tin, or it can shrink as it bakes. Press the pastry into the flutes of the tin, then prick the base all over lightly with a fork. To trim off the overhanging pastry, just roll your rolling pin over the top of the tin and the sharp edges will cut it off. Line with foil and baking beans (or use uncooked rice or dried beans).
Put the tin on a baking sheet and bake for 12-15 minutes to set the pastry. Then lift out the foil and beans and cook for another 5-6 minutes or until the pastry is pale golden. Remove and lower the oven to 180°C (160°C if using a fan oven) gas 4. Put the pastry to one side while you make the filling.
Put the vegetable spread and caster sugar into a mixing bowl and beat together with a wooden spoon until light and creamy. Stir in the ground almonds, polenta, baking powder and almond extract.
Pour the OGGS Aquafaba into a large mixing bowl and whisk using an electric hand whisk for 3 minutes until it is light and frothy and reaches soft peaks. Use a large metal spoon to stir this into the almond mixture. The mix will deflate and look somewhat curdled – but that's OK, it'll be fine once baked.
Chop 4 of the apricots and mix with the mincemeat. Spoon this thinly over the base of the tart case, then spoon and spread the filling over to cover it. Snip the remaining apricots into long pieces with scissors and scatter over the filling. Bake for about 25-30 minutes. The top should be set and a pale golden colour. Let the tart cool in the tin a little, then remove it and serve warm or cold, dusted generously with icing sugar and add a sprig of holly if you have one.
Top Tips
If you are feeling extra festive, splash 1-2 tsp brandy into the mincemeat before using.