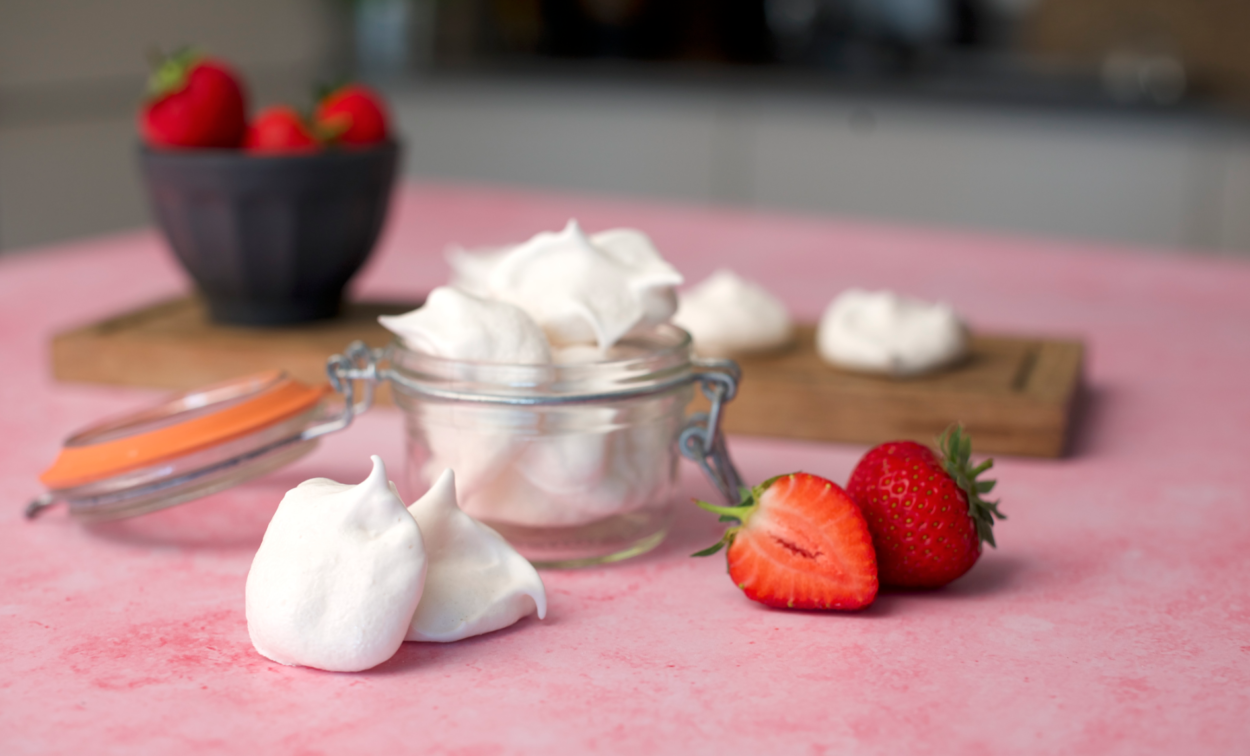 PRINT RECIPE
Click to see how it's made
Where the Aquafaba story all began…a vegan alternative for meringues! For that reason, this recipe is one of our favourites. This recipe is for kisses…so if you fancy something bigger, check out our Pavlova recipe. It uses the same ingredients, but requires a slightly longer cooking and cooling time! 
PREP TIME 5-10 mins
COOK TIME 90 mins
SERVES 20-30 kisses
Ingredients
100ml of OGGS Aquafaba 
100g caster sugar  
1/4 teaspoon cream of tartar. 
Method
Make sure all the equipment and utensils you're using are super clean and completely oil free. Even the smallest bit of grease can turn your perfect peaks into a sticky mess.
Preheat oven to 100°c/ gas mark 1 ½ and line 2 baking trays with parchment paper. This recipe makes a lot!
We like the dollop method as it's fun and plastic free, but if you are going to be piping your meringue mixture, prepare your piping bag and tips.
Start whisking your OGGS Aquafaba, starting on a medium speed (so you don't risk getting showered in aquafaba!) and whisk until soft peaks form.
Add the cream of tartar and whisk on the highest speed until stiff peaks form.
One tablespoon at a time, slowly add the sugar and continue mixing, until all the sugar is gone. Scrape down the sides of the bowl a couple of times to ensure getting all the sugar into the mix. The mixture should be so stiff, it doesn't shift at all.
Pipe or dollop your meringue onto the prepared baking trays and pop in the oven for 90 mins. Resist opening the oven, so the heat stays consistent.
After the 90 mins is up, turn off the oven and leave the meringues in there to dry for at least another hour. You know they're done when they are completely dry and peel off the baking paper easily.
Top Tips
For the more enthusiastic and energetic among us, you'll be pleased to know you can't over-beat OGGS Aquafaba.
If you don't have cream of tartar, you can also use 1/2 teaspoon of white vinegar or 1/2 teaspoon of lemon juice.
You can store these little kisses in your fridge for up to a month. Just be sure that they're in an airtight container.