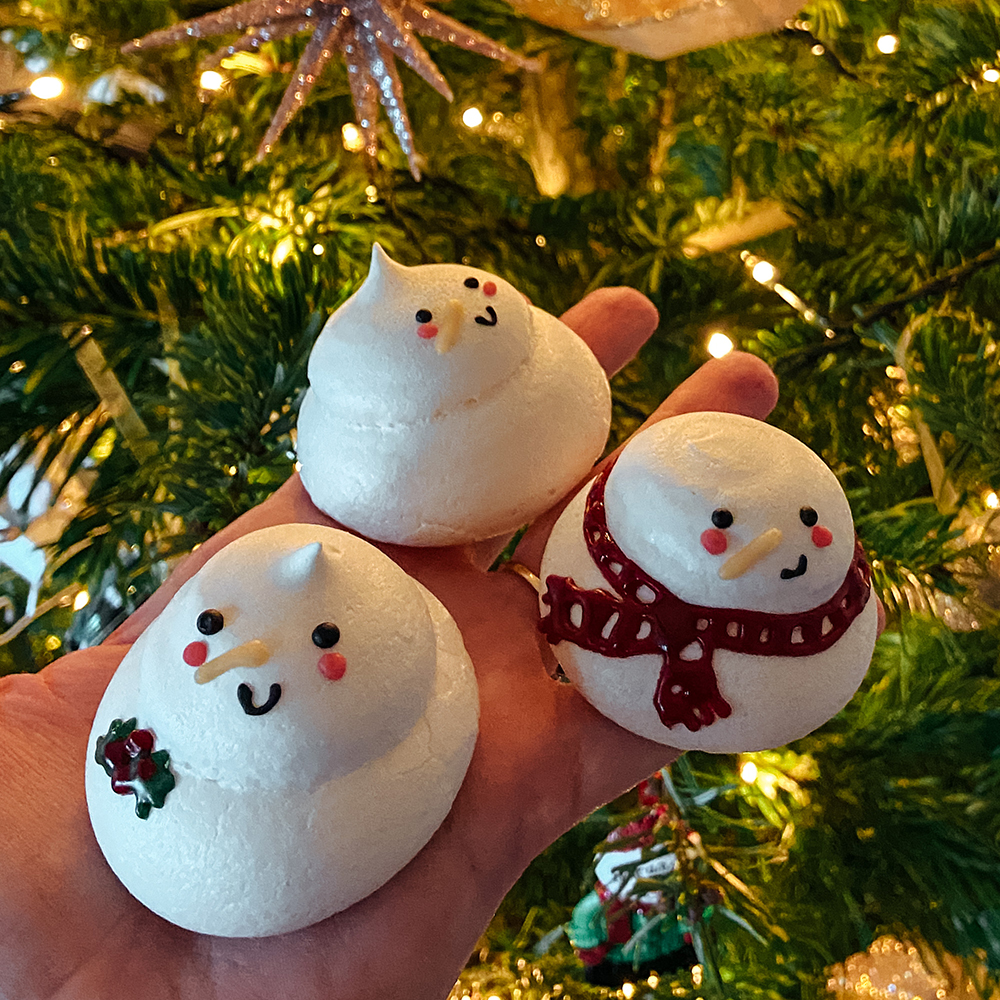 PRINT RECIPE
How's this for a festive showstopper? Mini melted snowman meringues, made vegan using OGGS® Aquafaba.
PREP TIME 20 min
COOK TIME 2 hr
SERVES 30 snowmen
Ingredients
For the meringue
100ml OGGS® Aquafaba
100g caster sugar
1/4 teaspoon cream of tartar
For the icing
40ml OGGS® Aquafaba
100g icing sugar
Food colouring (we like Wilton colouring gels)
Method
Make sure all the equipment and utensils you're using are super clean and completely oil free. Even the smallest bit of grease can turn your perfect peaks into a sticky mess.


Preheat oven to 100°c/ gas mark 1.5 and line a baking tray with parchment paper. If you're making larger nests, you may want to use separate trays.


With an electric whisk, whisk your OGGS® Aquafaba starting on a medium speed and gradually build your speed up (so you don't risk getting showered in Aquafaba!) Beat for 2 minutes until medium peaks form.


Add the cream of tartar and beat with the mixer on the highest speed until stiff peaks form.


One tablespoon at a time, slowly add the sugar and continue mixing, until all the sugar is gone. Scrape down the sides of the bowl a couple of times to ensure getting all the sugar into the mix. The mixture should be so stiff, it doesn't shift at all.


Transfer the meringue into a piping bag with a round nozzles and pipe snowmen shapes, one ball onto another onto a baking tray.


Bake for 2h at 100c.


Make the royal icing by combining icing sugar with Aquafaba, adding the Aquafaba one teaspoon at a time and checking the consistency in between.


The icing should be the consistency of yogurt.


Make 3 colours: black, pink and orange or more if you prefer.


Pour the royal icing into piping bags and draw eyes, carrot nose and smile onto the snowmen.