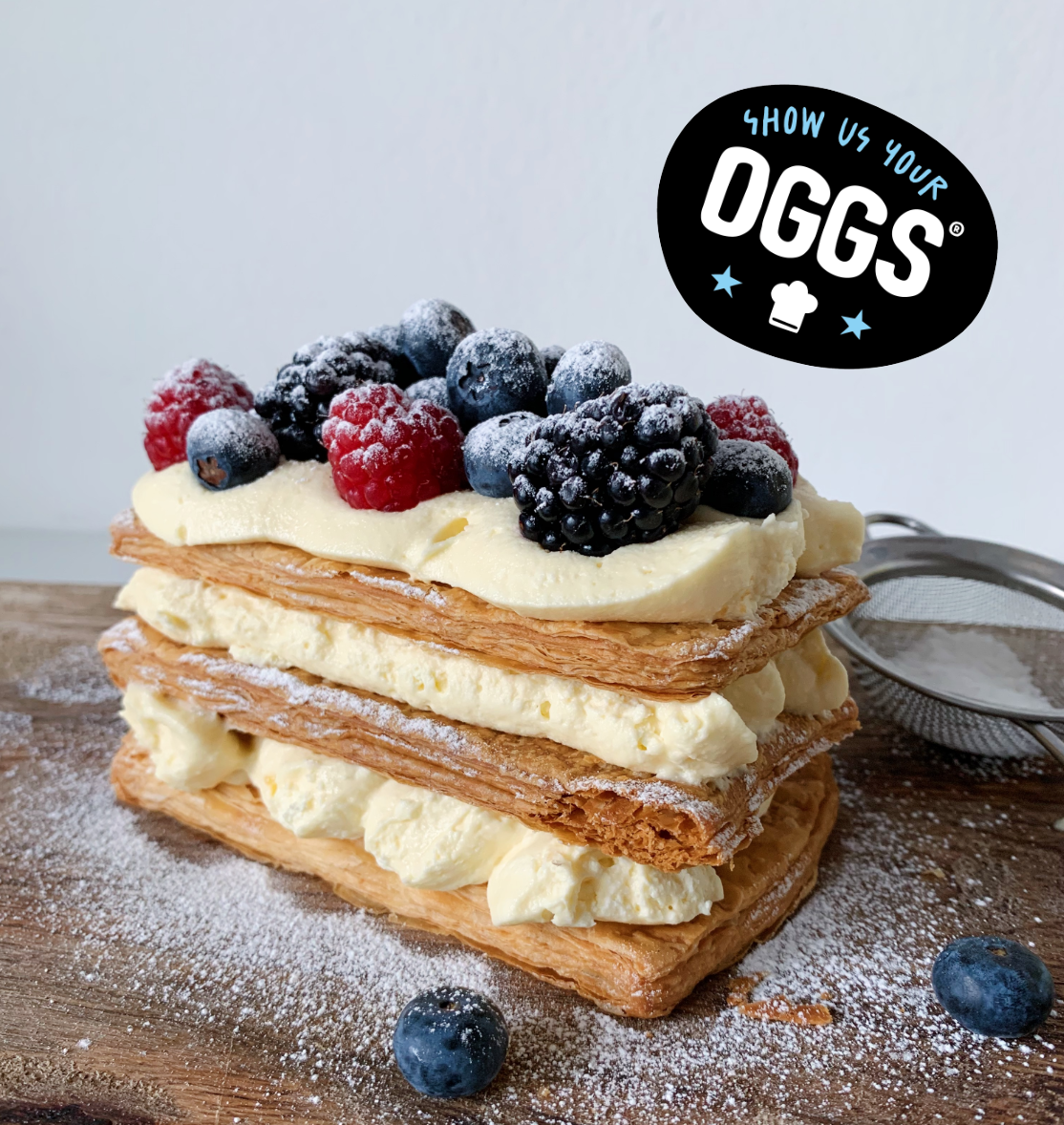 PRINT RECIPE
PREP TIME 30 minutes
COOK TIME 20-25 minutes
SERVES 4
Ingredients
Lemon Curd
Zest of 2 lemons
2 tbsp cornflour
100ml OGGS® Aquafaba
Juice of 4 lemons

150g caster sugar
3 tbsp margarine

2 tbsp dairy-free milk
Pastry Layer
1 pack of vegan puff pastry
Whipped Cream
150ml OGGS® Aquafaba

½ tbsp cream of tartar
30g caster sugar
Topping
Your favourite berries
2 tbsp icing sugar
Method
Start by finely zesting the outside of two lemons. Pop all the zest into a saucepan with the cornflour on a very low heat.
Whisk up the OGGS® Aquafaba with a fork for 30 seconds in a cup/measuring jug and add it to the saucepan. To smooth out all the lumps and bumps, give it a gentle stir with a hand whisk.
Add the lemon juice and sugar and bring to a medium heat. Continuously stir the zesty mixture until all the sugar has dissolved. Increase the heat ever so slightly at this point and keep stirring until it reaches a super thick consistency. This will take 7 10 minutes of constant stirring.
Once you've reached this thickness, add the margarine and dairy-free milk to give it a glossy and rich finish.
Transfer into an old glass jar (jam jars work perfectly), making sure to sterilise it beforehand! Once the jar has cooled down, pop your lemon curd into the fridge for 1-2 hours, so it can set properly. Ten minutes before this time's up, preheat your oven to 180°C/160°C if using a fan oven/gas mark 4.
Cut your puff pastry into 12 equal rectangles They can be whatever size you like. Line a baking tray with parchment paper and lay the pastry rectangles on top. Lay another piece of parchment paper over the top of the pastry and weigh it down with a second baking sheet/tray. Pop into the oven for 20-25 minutes until golden brown and then let cool down entirely.
Whilst you're waiting for the pastry to cool down, whisk up your double cream! Using an electric whisk, whisk your OGGS® Aquafaba on a high speed. After 2 minutes, add the cream of tartar. Once the peaks become stiff, slowly add the sugar and continue mixing on a high speed. You should end up with a rich, thick creamy texture.
Gently fold in 3-4 tbsp of your lemon curd (depending on how much zing you want it to have.
Time to assemble. For each of the 4 mille-feuille, sandwich 3 pastry triangles with lemon cream between each. Once you're happy with your towers, top them off with another layer of cream and some fresh berries. Dust lightly with icing sugar and...voila!
Top Tips
Top Tip:
1. If there's left over lemon curd…it's extra yummy on toast or folded into ice cream!