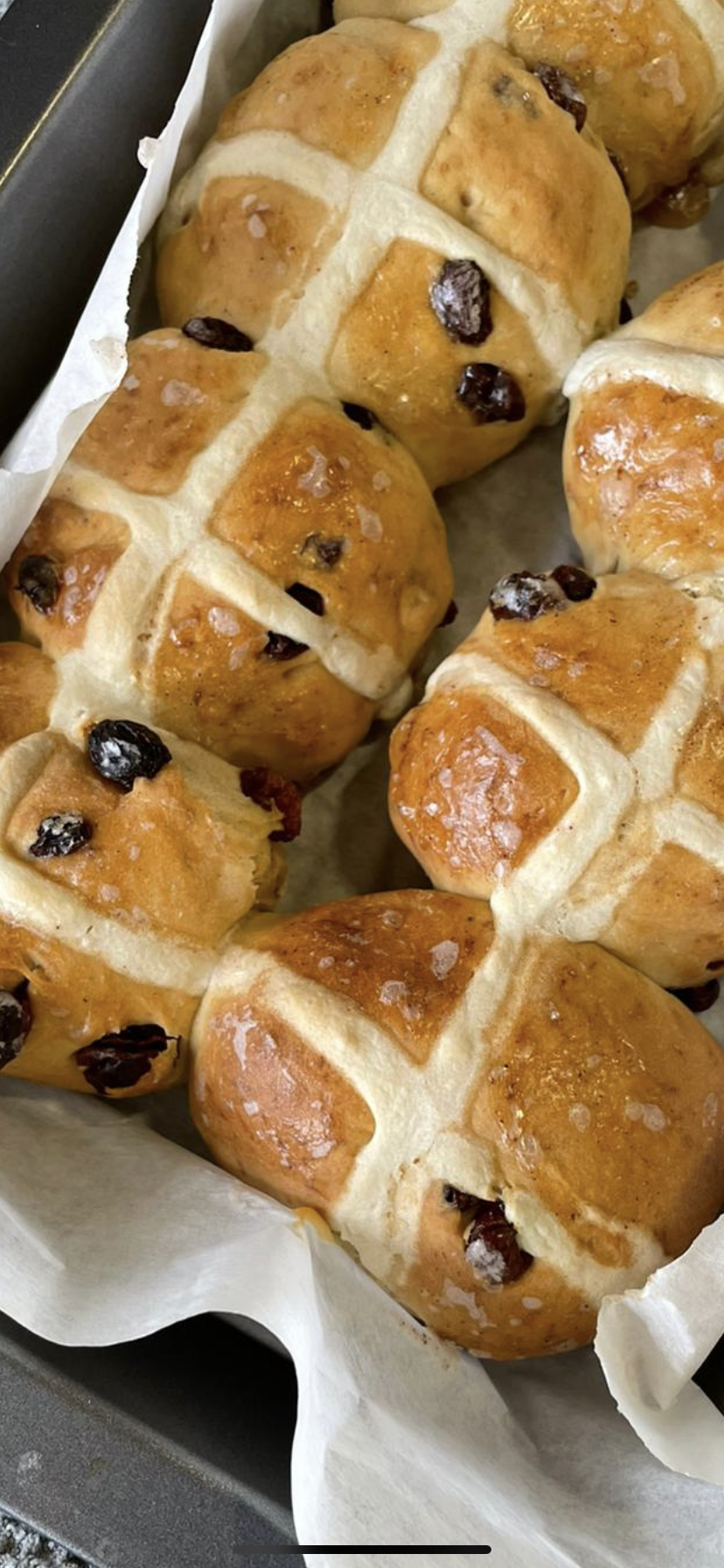 PRINT RECIPE
PREP TIME 2 hours (including proving)
COOK TIME 18-20 minutes
SERVES 12 large buns
Ingredients
Bun
150ml OGGS® egg alternative Aquafaba
200ml almond milk
50g margarine, melted
450g strong bread flour
7g/ 1 sachet of dried yeast
45g caster sugar
1 tsp cinnamon
1 tsp mixed spice
200g raisins
Cross
50g plain flour
6 tbs warm water
Glaze
50ml OGGS egg alternative Aquafaba
3 tbs apricot jam
Method
Gently whisk your Aquafaba with a whisk or fork 'til the OGGS® Aquafaba is pale and frothy. Then add the milk and melted margarine and continue whisking.
In a separate bowl, add all of your dry ingredients, other than the raisins, and stir with a wooden spoon so everything is well mixed. In batches of three, add the liquid mixture, giving it a good stir in between each addition. When all the liquid is in, you should have a lovely thick and sticky dough.
Move the dough onto a lightly floured surface and knead for about 10 minutes 'til the dough is stretchy and smooth. Pop it into a lightly oiled bowl and cover with cling film or a damp cloth. Transfer your dough to a warm spot where it will prove for an hour. We love the oven for this job, with no heat but the light turned on.
Once the hour is up, your dough should have doubled in size. Take it out from your warm spot and punch out any air that might be in it. Next, spread the dough out into a rectangle with your hands, and add the raisins into the middle leaving 2 inches around the side. Fold over the edges to the middle, gathering all the raisins into the middle, and continue kneading for another 5 minutes.
Divide your dough into 8 balls, rolling them out into a smooth shape with the palm of your hands and place them onto a tray lined with baking paper. Leave them to prove for another 20 minutes.
During this time, preheat the oven to 180c/160c for fan oven/ gas mark 4 and make the 'icing' for the cross. Combine the flour and water and mix well 'til you have a thick pasty mixture. Once the buns have finished their second stage of proving, transfer the mixture into a piping bag and with a 5mm nozzle and pipe the crosses over. It doesn't matter if the buns are touching at this point...it all adds to the charm.
Pop the buns in the oven for 18-20 minutes until they have golldened. If you think they could do with being a bit browner, don't hesitate to keep them in for a little bit longer! In this time, combine the OGGS Aquafaba with the apricot jam and mix well until a glaze has formed.- popping it in the microwave for 20 seconds will help this! When the Hot Cross buns are out of the oven, quickly glaze this over the top whilst their warm, to ensure they go lovely and sticky!
Top Tips
– If you tap on the bottom of the bun and they sound hollow…they're perfect!