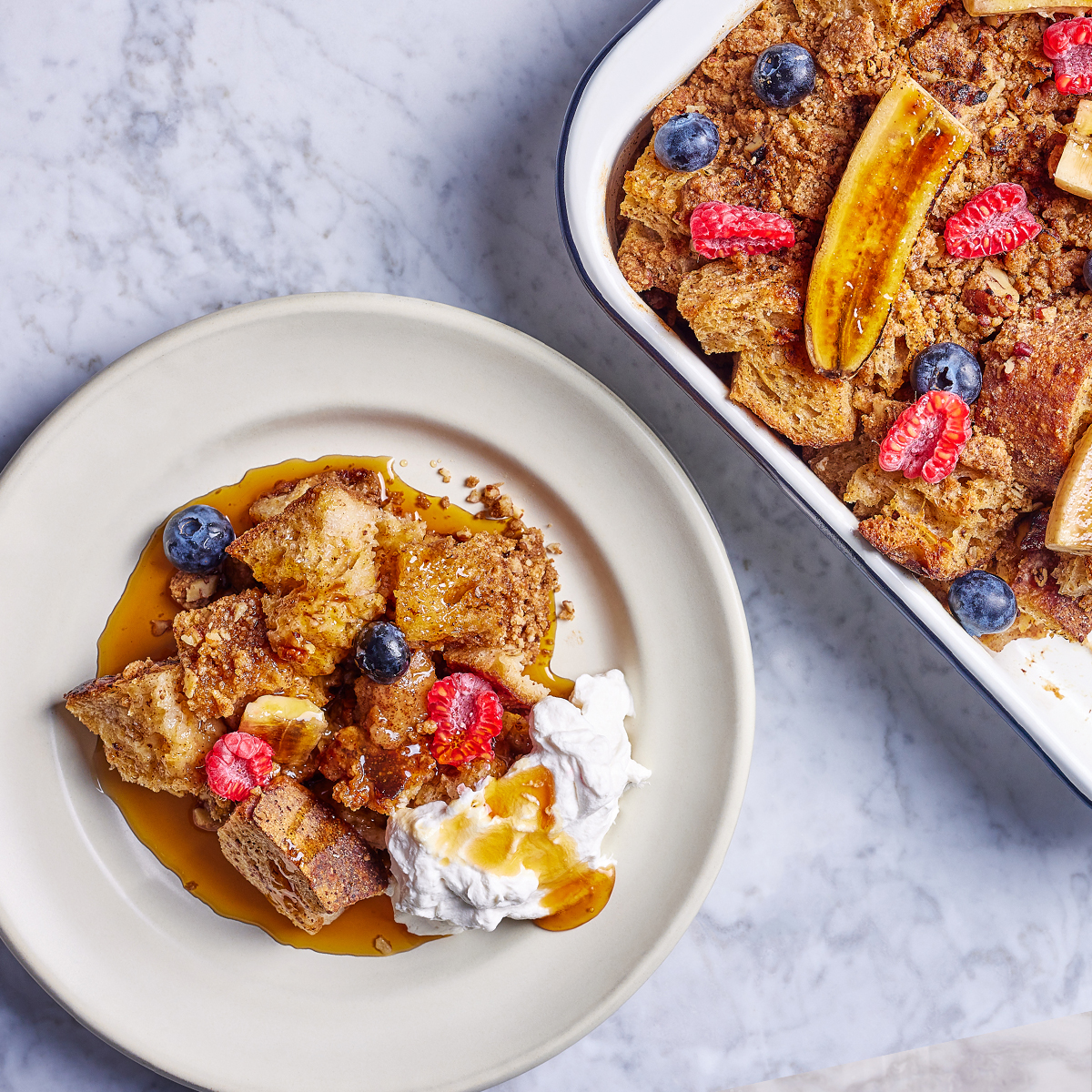 PRINT RECIPE
This French Toast Bake is the ULTIMATE treat. Made with a Scrambled OGGS custard and topped with a beautiful pecan crumb!
PREP TIME 75 Mins
SERVES 4-6
Ingredients
For Custard
470ml Scrambled OGGS
470 ml plant-based milk
2 tbsp cornflour
50g granulated sugar (+ more to caramelize bananas)
2 tsp ground cinnamon
2 tsp vanilla extract
¼ tsp salt
Pecan Topping
65g pecans, chopped
65g plain flour
110g brown sugar
115g cup plant-based butter
Garnish
1 ripe banana
Maple syrup
Method
Preheat the oven to 200°C
Add the custard ingredients to a medium bowl. Whisk or use a high speed blender to mix together until no lumps remain. Set aside for 15 minutes to thicken.
Using a serrated knife cut the bread into 1 inch thick slices. Once complete, cut the bread down into one inch squares. Set aside.
Add the cubed bread to an oiled 7x11-inch baking dish. Evenly pour the custard over the bread and set aside for a further 15 minutes.
Prep the pecan topping while the bread soaks. Mix the sugar and flour together in a medium bowl. Use a fork or pastry cutter to cut in the butter, then mix in the chopped pecans.
Top the bread and custard mixture with the pecan topping. Place the dish in the oven and bake uncovered for 40 minutes or until golden brown.
Cut the banana into around ten 1cm thick pieces. Place the banana pieces onto a sheet tray and liberally dust with granulated sugar. With a blowtorch caramelise the bananas.
When the French toast bake has finished cooking, remove from the oven and set aside to cool slightly for 10 minutes.
Top with bananas, maple syrup and anything else you would like to add. enjoy !