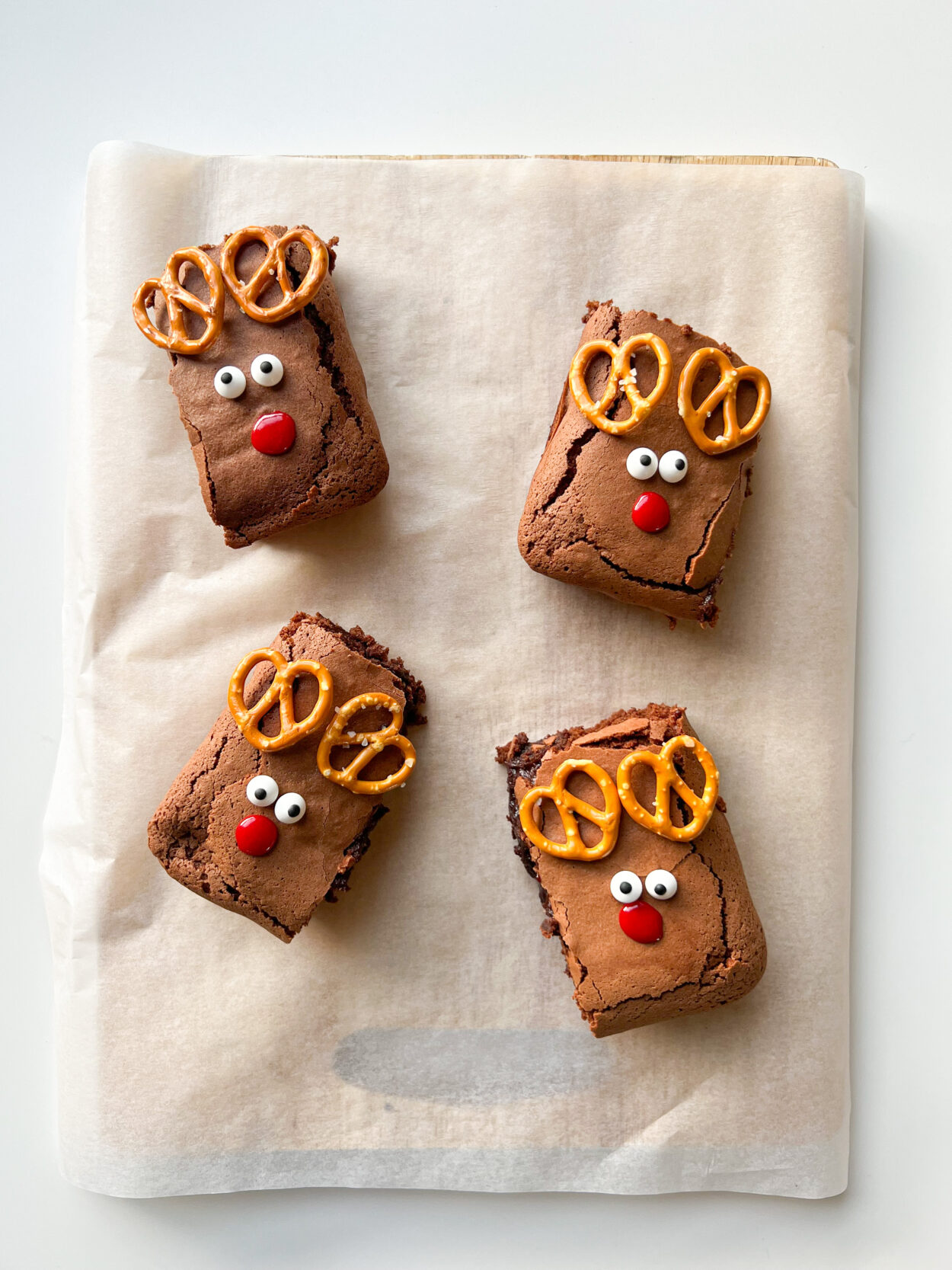 PRINT RECIPE
Click to see how it's made
In the mood for some festive baking? Luckily we've got the ultimate vegan brownie recipe ready for you here, made plant-based using OGGS® Aquafaba instead of eggs!
PREP TIME 30 minutes
COOK TIME 20-25 minutes
SERVES 12
Ingredients
100ml OGGS® Aquafaba 
110g dark chocolate, broken into pieces 
1 tbsp instant coffee mixed with 50ml boiling water (optional)
110g margarine, at room temperature 
110g light brown soft sugar 
110g caster sugar 
1 tsp vanilla extract 
210g plain flour, sifted 
40g cocoa powder, sifted 
1 tsp baking powder 
Red & black icing pens
Pretzels for Reindeer ears
Edible cake decoration eyes
Method
Preheat the oven to 160°C Fan (180°C / Gas 6) and line your square brownie tin (24cm / 9.4 in) with parchment paper.


Put the chocolate pieces in a bowl, resting over a pan of gently simmering water, making sure the base doesn't touch the water. Add the coffee and water mixture and the margarine.  Leave to melt over the lowest heat then once everything has melted, stir the mixture until smooth. Carefully lift the bowl off the pan and leave to cool. 


While the chocolate mix is cooling, whisk the OGGS® Aquafaba in a clean bowl until it forms stiff peaks – this will take a couple of minutes. Add both types of sugar, a spoonful at a time, whisking after each addition and mix well. Then add the vanilla extract and continue to whisk for about 2 minutes, until the mixture is looking thick and glossy. 


Add the chocolatey mixture with the OGGS® Aquafaba mixture and slowly fold it all together, using a spatula. 


Little by little, combine spoonfuls of the flour, cocoa and baking powder into the chocolate mixture, whilst folding everything together constantly. The mixture should be a lovely, rich dark brown once everything's combined, and quite thick. Scrape all the brownie mixture out of your bowl and into your lined tin and smooth over the top. 



Bake in the oven for 20-25 minutes (or until the top cracks), then leave to cool in the tin. They will need about 20 minutes to cool and firm up before transferring them on to a board where you can cut them. Don't worry – they'll remain lovely and gooey in the middle! Using a sharp knife, cut into chunky squares.  



Stick two pretzel's on each brownie as Reindeer ears, some edible eyes and then draw on a red nose to finish the Reindeer's!
Top Tips
If you prefer them slightly more cooked in the middle, keep them in the oven for five extra minutes
If you like your brownies to have a slight chew, refrigerate them overnight before eating.