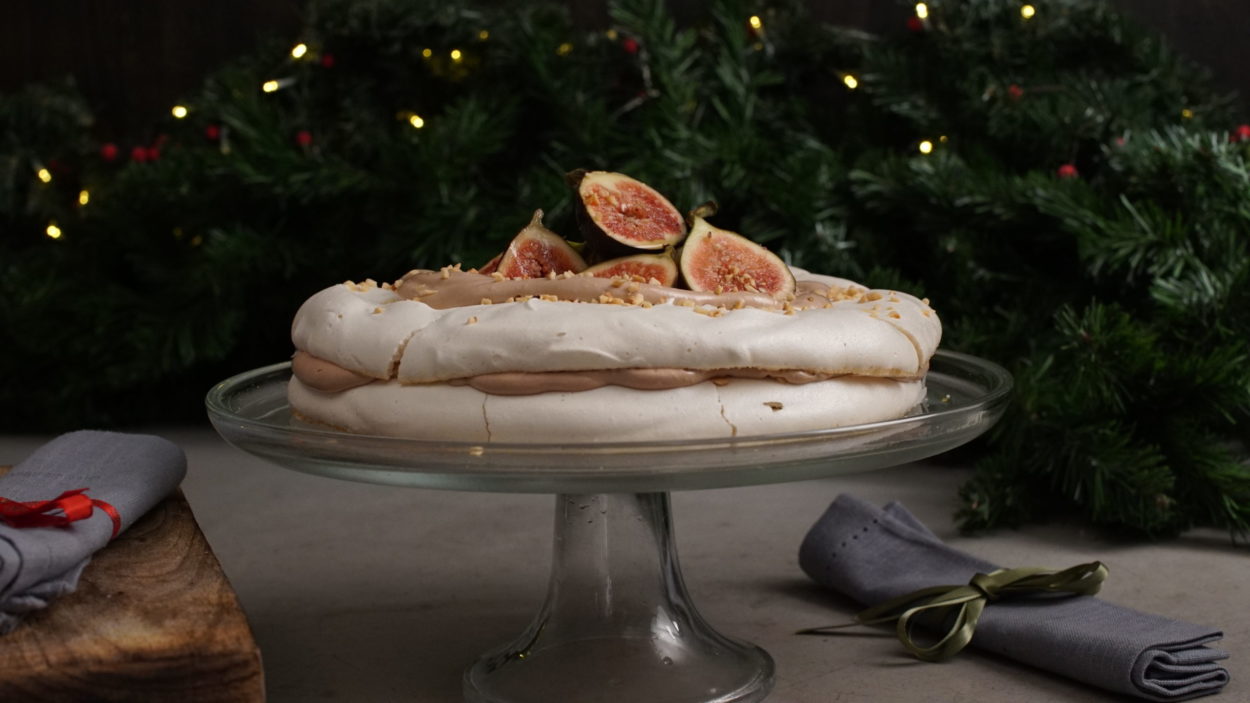 PRINT RECIPE
OGGS Aquafaba meringue, finished with chopped hazelnuts, and baked until crisp. This gorgeous dessert has a Christmas twist and is topped with chocolate hazelnut cream and fresh figs. The meringue needs to be made a day ahead, to allow it to dry out fully in the oven. Slice and serve straight away as once the cream is on, the meringue will slowly start to soften.
PREP TIME 30 minutes
COOK TIME 2 hours
SERVES 6-8
Ingredients
200ml OGGS Aquafaba
1 tsp white wine vinegar, lemon juice or cream of tartar
1 tsp cornflour

1/2 tsp ground cinnamon (optional)
250g caster sugar
2 tbsp toasted chopped hazelnuts, plus extra to serve
Topping
1 x 270ml pot Elmlea Plant Double cream
100g Vegan Chocolate Hazelnut Spread (we like Mr Organic)
4-6 fresh figs, halved
Method
Preheat oven to 140°C (120°C if you're using a fan oven)/gas mark 1.
Line two large baking trays with parchment paper. Draw a 23cm circle on each piece of paper (you can use a 23cm cake tin as a template) and turn the paper pencil-side down onto the tray.
Pour your OGGS Aquafaba into a large spotlessly clean bowl. Using an electric whisk, whisk on a high speed for a couple of minutes until the mixture forms soft peaks and begins to leave a trail when the whisks are lifted from the bowl.
Now whisk in the vinegar, lemon juice or cream of tartar and the corn-flour with the cinnamon. Gradually begin to add the sugar, a tablespoon at a time whilst continuing to whisk on a high speed. Mix for another 3-4 minutes, 'til the mixture looks glossy, forms stiff peaks and doesn't move around the bowl at all.
Divide your meringue equally between the 2 prepared baking trays, arranging them into nest shapes, forming swirls and peaks in the meringue with your spoon. Sprinkle the hazelnuts evenly over their tops.
Pop in the oven to bake for 2 hours 30 minutes. Do not be tempted to open the door!
After this time, turn off the oven and leave the meringues in there for another 3-4 hours.
Before serving, carefully slide a palette knife under each meringue and peel the baking paper away. Transfer one to a large serving plate. Put the Elmlea Plant Double into a large bowl and whip to stiff peaks, then whisk in the chocolate hazelnut spread to make a lovely chocolatey cream.
Spread half of the cream over the top of each meringue and carefully place one meringue on top of the other. Quickly arrange the figs on top and finish off with a final sprinkle of nuts. Serve straight away.