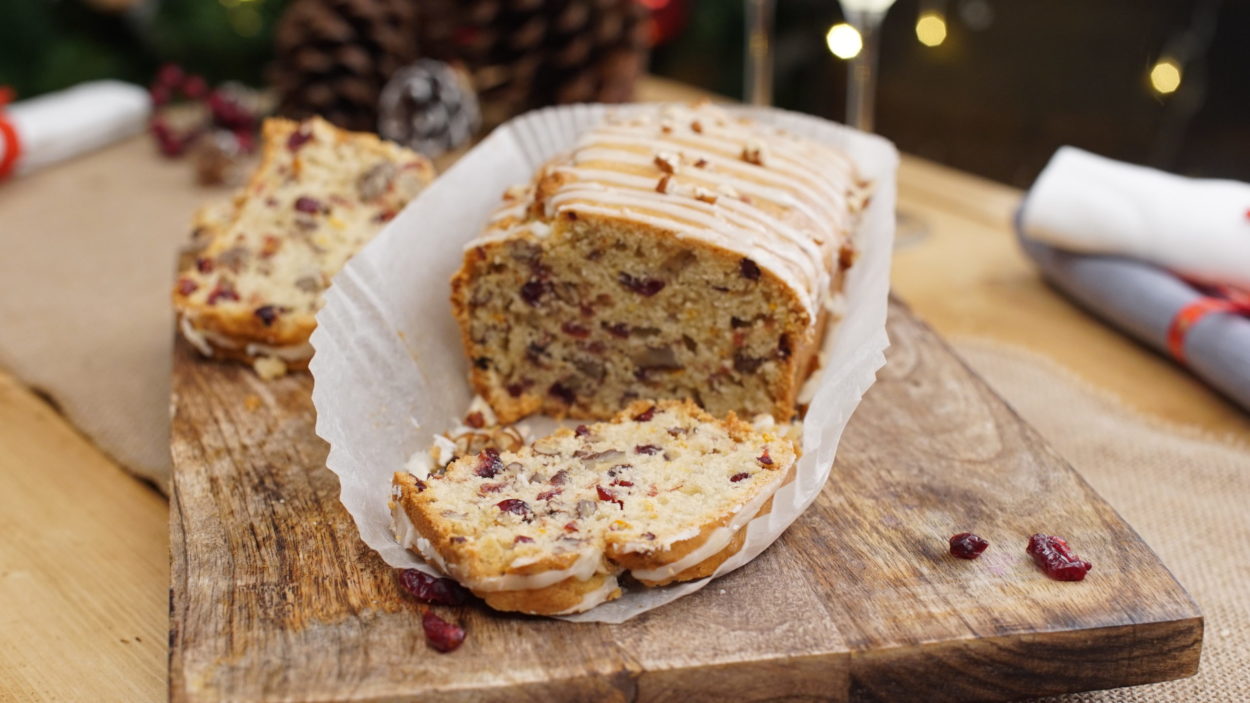 PRINT RECIPE
This alternative vegan Christmas cake combines sweet dried cranberries and orange and is finished with a drizzle of orange icing. For a Christmassy flourish, sprinkle over some gold dust or gold leaf, just before serving.
PREP TIME 30 minutes
COOK TIME 60-70 mins
SERVES 8-10
Ingredients
250g self-raising flour, sifted
75g dried cranberries or dried cherries, chopped
50g pecan nuts, roughly chopped, plus a small handful extra to serve
Zest of 1 orange
125g golden caster sugar
200ml OGGS Aquafaba
100g vegan spreadable margarine, melted and cooled
For the Icing
50g icing sugar
1-2 tbsp orange juice
Method
Preheat the oven to 190°C/170°C if using a fan oven/gas mark 5. Pop a loaf tin liner into a 900g loaf tin.
Put the flour into a bowl and stir in the dried cranberries, pecan nuts, orange zest and sugar.
In a separate clean, grease-free bowl, whisk the OGGS Aquafaba with an electric hand whisk for 3-4 minutes until thick and frothy and the liquid has doubled in size. The whisks will leave a slight trail when lifted out of the mixture.
Pour the melted and cooled margarine into the dry mixture and fold in a couple of times – it doesn't need to be completely mixed in. Next add a large spoonful of the whisked Aquafaba and fold in, then gradually fold the remaining mix into the dry cake mixture in three stages, making sure everything is combined. It'll be a smooth batter by the time you've finished.
Spoon into the prepared loaf tin and bake for around 1 hour-1 hour 10 minutes until golden all over and well risen. To check it's cooked all the way through, push a skewer into the middle – it's ready when it comes out clean.
Leave to cool in the tin for 20 minutes, then slide onto a wire rack, still in its paper, to cool completely.
Mix together the icing sugar and orange juice in a bowl until smooth. Lift the cake onto a serving plate and drizzle the icing all over the top. Chop the remaining pecan nuts, scatter on top, then slice and serve.
Top Tips
Store the cake in an airtight container for up to 3 days.