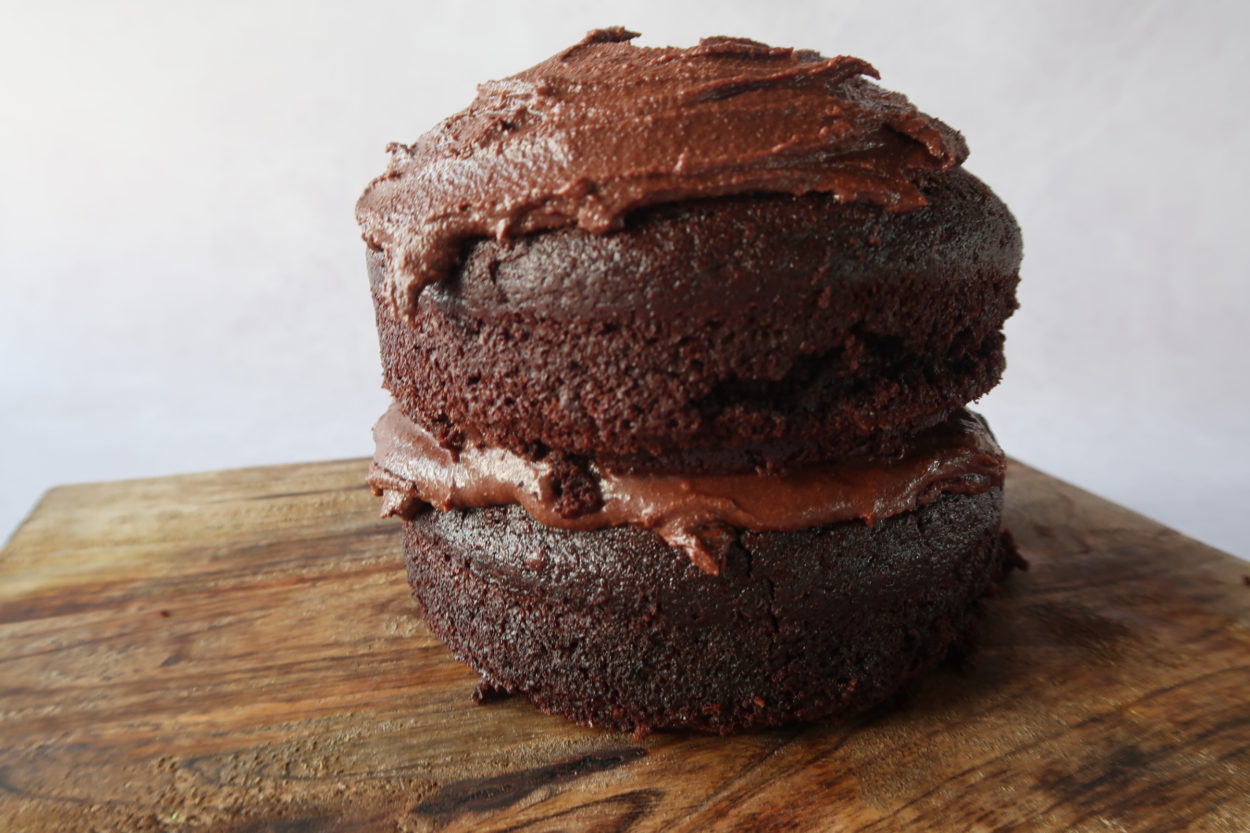 PRINT RECIPE
PREP TIME 20 minutes
COOK TIME 25 minutes (30 more minutes for the icing)
SERVES 12 slices
Ingredients
100ml OGGS Aquafaba
250g caster sugar
100g light brown sugar
250g plain flour
80g cocoa powder
1 tsp baking powder
225ml dairy-free milk
90ml vegetable oil
1 tsp vanilla extract
150ml boiling water
Chocolate Frosting
120ml plant-based milk
200g dark chocolate
115g plant-based butter
200g icing sugar
Method
Preheat your oven to 180°C and line two 9-inch cake tins with parchment paper.
Using an electric whisk, whisk up the Aquafaba until it makes soft peaks and begins to leave a trail. Add the sugars and continue whisking on a high speed until the mixture is thick and glossy. Using a wooden spoon, add the remaining ingredients, apart from the boiling water, and make sure the batter is smooth.
Little by little, add the boiling water and continue to mix it with your wooden spoon. The mixture should be pretty liquidy at this point, but don't worry – it's meant to look like that! Divide it between two cake tins and pop in the oven for 25-30 minutes until they have risen and are firm.
Once they are in the oven, start making up your icing! In a saucepan, warm up the milk until it begins to simmer. Once you take it off the heat, immediately add the chocolate and stir until it's melted. This method will ensure no chocolate gets burnt.
Add the vegan butter to the chocolate mixture and leave untouched until it's fully melted and cold.
Once it's cold, add a quarter of the sugar and whisk. It shouldn't be too thick at this point, but it's the perfect moment to place it in the fridge to thicken up for 20 minutes.
After 20 minutes is up (maybe your cakes are done too and left to cool) add the rest of your icing sugar and whisk up. This trick works really well to achieve the desired frosting texture, and it's delicious!
Top Tips
Top Tips:
Be patient before you start decorating – there's nothing worse than spending all that time on the icing to just watch it melt straight off.
You'll be able to tell if your cakes are fully cooked if they spring back when you gently press their tops. However, if you're not fully confident with this method, simply use the knife/toothpick trick. If your knife comes out clean after being inserted into the centre of the cake, it's done.
We think raspberries and chocolate go perfectly together, so don't hesitate to whack some on top once finished… or even in the middle.