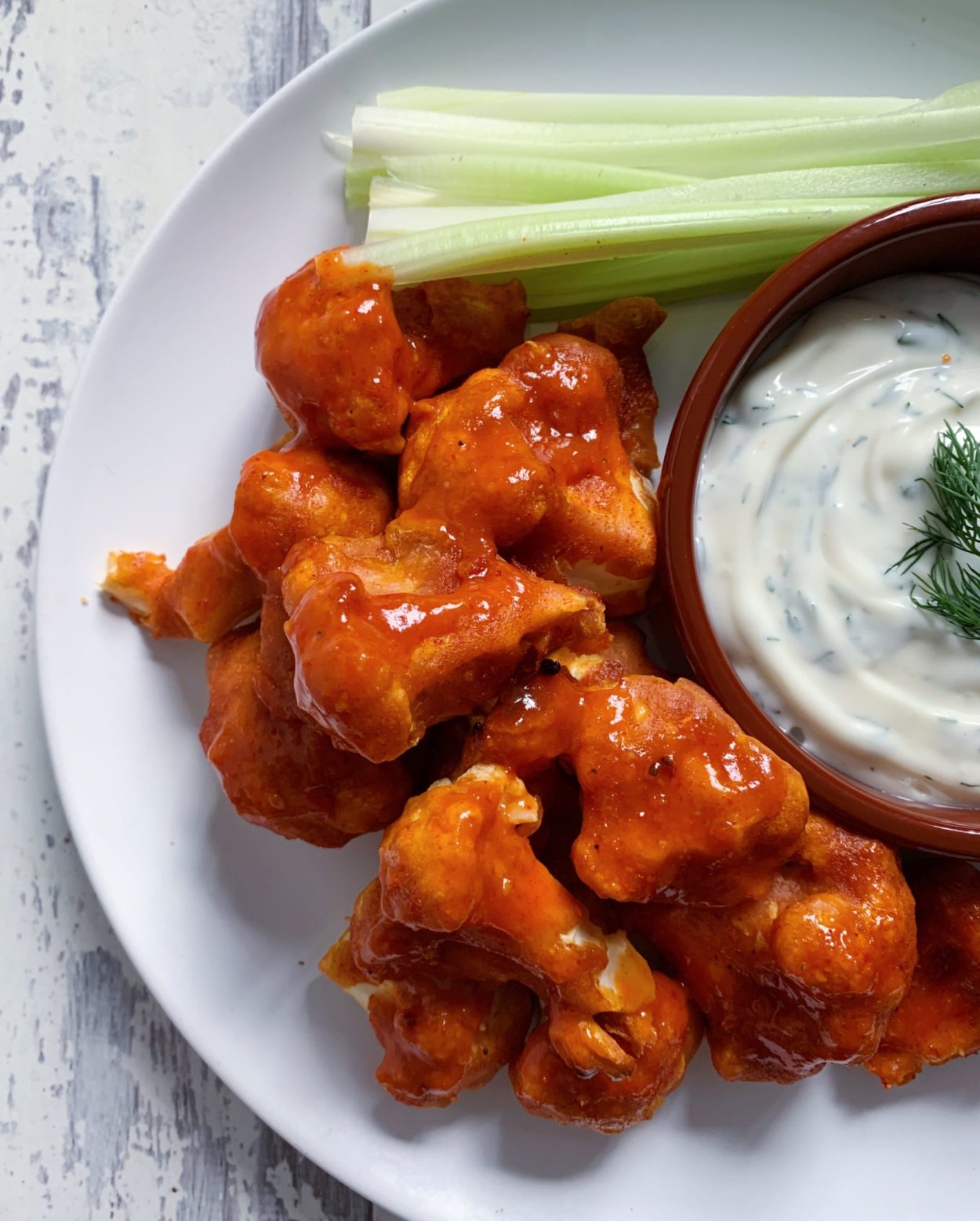 PRINT RECIPE
PREP TIME 40 minutes
COOK TIME 40 minutes
SERVES 4
Ingredients
1 cauliflower head, cut into florets
100ml OGGS Aquafaba
25g plain flour
1 tsp paprika
1 tsp garlic granules
1 tsp cumin
4 tbsp Sriracha sauce (whatever your favourite spicy sauce is, will work great!)
30ml dairy-free milk
For the Glaze
50ml OGGS Aquafaba
1 tbsp Agave Nectar
3 tbsp Sriracha (whatever your favourite spicy sauce is, will work great!)
1 tsp paprika
Ranch Mayonnaise Dip
50ml OGGS Aquafaba
1 tbsp white wine vinegar
1/2 tbsp caster sugar
150ml sunflower oil
Salt and pepper, to taste
Squeeze of lemon
3 sprigs of fresh dill, chopped
Method
Preheat the oven to 200°C/gas mark 6 and line a baking tray with parchment paper.
Using an electric whisk, whisk the OGGS Aquafaba until it forms stiff peaks and doesn't shift in the bowl.
Combine all the dry ingredients into a large bowl and add the chilli sauce and milk.
Using a spatula, gently fold the Aquafaba into the spicy batter. Don't worry if your OGGS Aquafaba deflates – it'll still make for some seriously good batter.
Pop the cauliflower florets into the batter bowl and make sure they're evenly coated by giving them a good stir. Place the florets onto the baking paper, without them touching.
Cook the cauliflower for 20 minutes. Once this time is up, give them a turn and cook for another 20 minutes until they're fully cooked on both sides.
During this time, get your sauces ready! First, the mayo dip... Using a hand blender, whisk up the OGGS Aquafaba in a measuring jug, until it's pale, thick and frothy.
Add the white wine vinegar and the sugar and blend again for another 30 seconds.
Over the next couple of minutes, pour in the oil, very slowly (a stream the width of a piece of spaghetti) and continue blending whilst pulsing the emulsifier up and down.
Season with salt and pepper, squeeze in the lemon and stir in the dill. All done!
To make the sticky glaze, just combine the four ingredients. Once the cauliflower is cooked, brush the glaze over.
Serve up and enjoy!
Top Tips
– If you like things really spicy, add more chilli sauce! We'll leave that up to you…