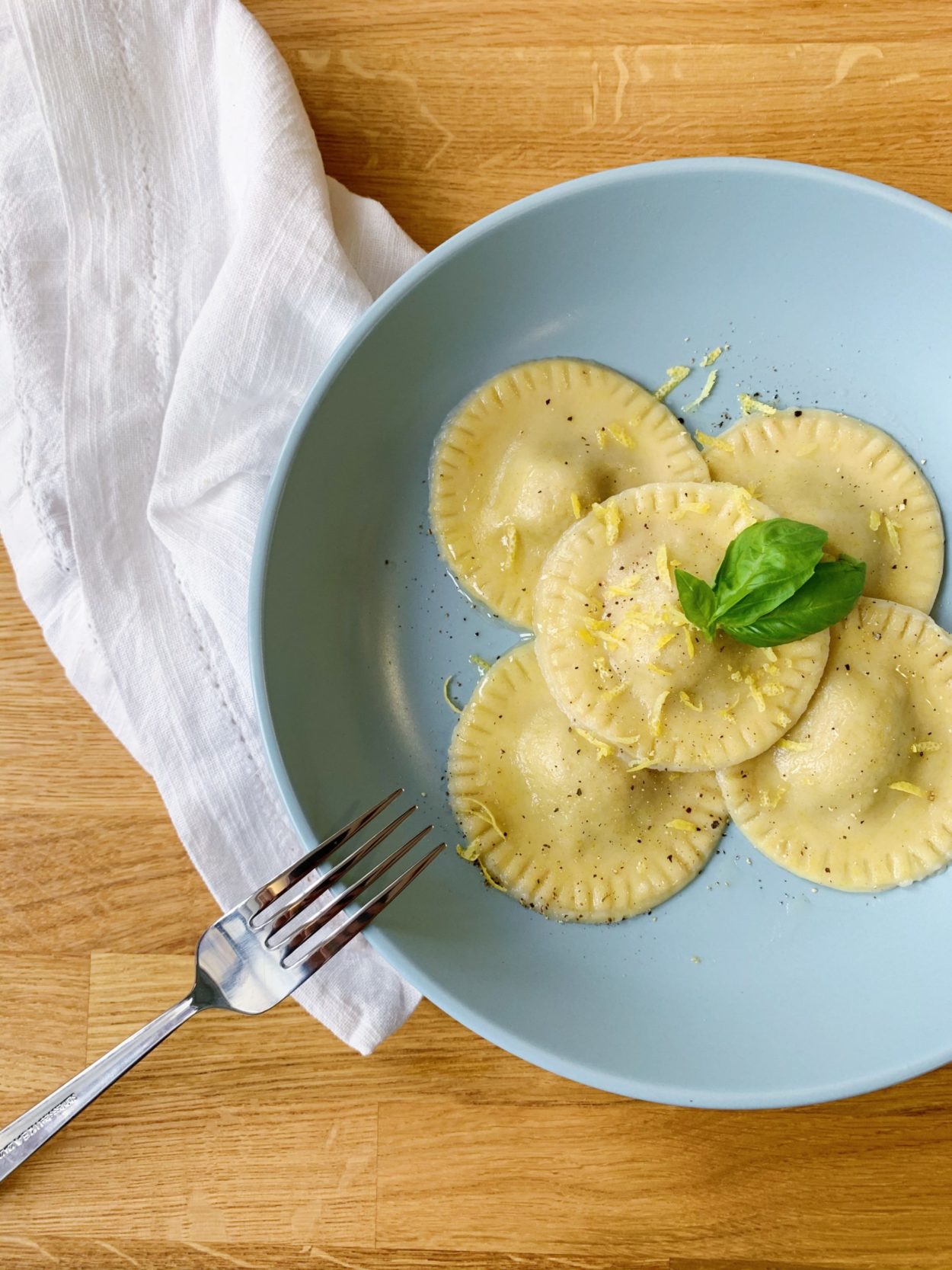 PRINT RECIPE
These delicate pockets of goodness are not only VERY impressive, but very simple too. Perfect as a starter or a main course… depending on how many you can eat! Ours are stuffed with butternut squash and beetroot and topped with lemon and garlic, but truth be told… you can pop in whatever you fancy, or what needs eating up in your fridge.
PREP TIME 2 hours
COOK TIME 4-5 minutes
SERVES Makes 20
Ingredients
Pasta
150g plain flour
¼ tsp turmeric
150ml OGGS Aquafaba
Filling
Splash of olive oil
½ butternut squash, diced
1 beetroot, diced
2 cloves of garlic
1 lemon, zest and juice
Salt and pepper
Method
Preheat oven to 180°C/gas mark 4 (or 160°C if you're using a fan oven).
In a bowl, mix together the pasta ingredients until the dough comes together and pulls away from the bowl.
Next, sprinkle a work surface with a handful of flour and knead the dough for about five minutes. Soon it will appear smooth and stretchy. At this point, pop the dough back into the bowl and place a damp cloth over it. Leave for an hour, before rolling out.
Meanwhile, get your filling cooked! Pop the butternut squash and beetroot in the oven to soften for over 40 minutes. Make sure you coat the pieces in some olive oil and season well.
Just before the vegetables have finished cooking, sauté the garlic in a splash of olive oil in a frying pan.
Combine the cooked vegetables and add some the lemon zest. By this point, everything should be super soft. Using a fork, mash the veg together until it's a thick puree and season again.
Generously sprinkle a work surface with flour and roll out your pasta. The thinner the pasta, the better your ravioli! Using a cookie cutter or even the rim of a glass, cut out 40 circles… as many as you can!
Spoon a small teaspoon of filling into the middle of 20 discs. Sit the other 20 discs on top. Using your finger, for each ravioli press the edges of the two discs together ensuring there are no air bubbles.
Simmer a large saucepan of water on a low heat and gently lower the ravioli into it. Cook them for 3-4 minutes, until they float to the top.
Serve up and squeeze any remaining lemon over with a good grind of pepper. Delicious.
Top Tips
For a super sophisticated finish, press the fork around the edges to indent a lovely little print.