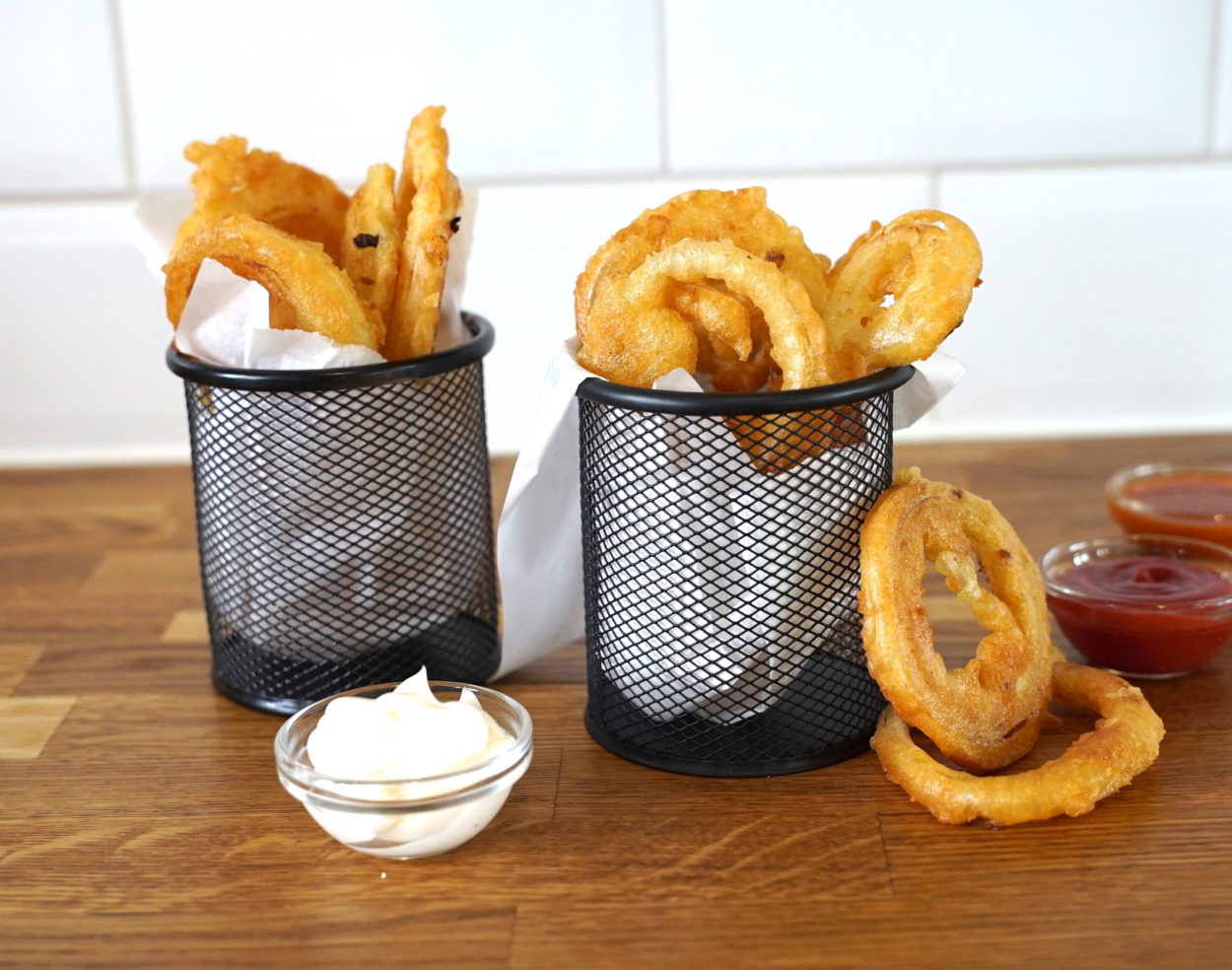 PRINT RECIPE
PREP TIME 15 Minutes
COOK TIME 3-4 minutes each
SERVES 4
Ingredients
Onion Rings
150ml OGGS Aquafaba
200g plain flour
200ml your favourite larger
½ tsp smoked paprika
½ tsp garlic granules
1/4 tsp turmeric
½ tsp white pepper
1 tsp salt
2 large onions, sliced into rings.
150ml vegetable oil for frying
Ailoi
50ml OGGS Aquafaba
½ tbs white wine vinegar
200ml Rape Seed oil
½ tsp caster sugar
1 tsp garlic granules
Salt and pepper, to taste.
Method
Start by whisking your OGGS Aquafaba on a high speed, 'til it reaches stiff peaks. This will take about 2-3 minutes.
In a separate bowl, mix together the dry ingredients
Add the beer to the dry ingredients and mix until you have a thickish batter.
Gently fold in the OGGS Aquafaba- don't worry if the Aquafaba deflates, the proteins will still be activated, and prevent the onion rings from getting too greasy.
Add the sliced onion into the batter and mix well so each ring is fully coated.
Heat your oil, 'til it starts to simmer. You can do a tester ring to check if the oil is hot enough. It should sizzle straight away and float to the top!
Cook each onion ring for 3-4 minutes, until it's crisp and brown. Carefully remove from the hot oil and place over kitchen roll to mop up any excess oil. Using a hand blender, whisk up the OGGS Aquafaba in a measuring jug, until it's pale, thick and frothy.
Add the white wine vinegar and the sugar and blend again for another 30 seconds.
Over the next couple of minutes, pour in the oil, very slowly (a stream the width of a piece of spaghetti) and continue blending whilst pulsing the emulsifier up and down.
Season with salt and pepper and garlic.